Climate Change Expert Lectures at Lancaster
11/02/2005 09:45:27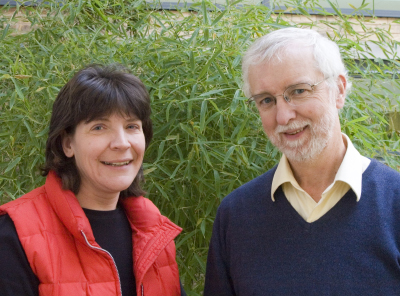 Professor Barbara Maher and Professor Ray Bradley
A climate change expert with an international profile gave a lecture at Lancaster University this week.

Professor Ray Bradley, director of Climate Change Research at the University of Massachusetts, gave a lecture on 'Natural archives - Changing climates' on Monday, October 31, at 1pm in Lancaster University's Furness Lecture Theatre.
Professor Bradley, who holds an Honorary Chair in Lancaster University's Geography Department, is a key international figure in climate change research.
His specific interests are in climate variability across a wide range of time scales, in particular how present day climate differs from climates in the past, and what may have caused climates to change.
His recent research has brought him to prominence in the USA in emphasising the present rise in global temperature compared to any period in the last thousand years.
Professor Bradley's work has attracted the attention of global warming sceptics, including Texan Congressman, Joe Barton, chairman of the House Energy and Commerce Committee.
Professor Bradley has made a principled stand, claiming that science does not move forward through 'editorials or articles in the Wall Street Journal or USA Today'.
He said: "It (science) does not advance through ad hominem attacks on individual scientists in the Congress of the United States; it does not move forward through novelists deciding that they can sort the problem out by fleeting references to scientific papers within the pages of fiction."