Swinging Sixties at the Nuffield Theatre
10/23/2008 11:48:00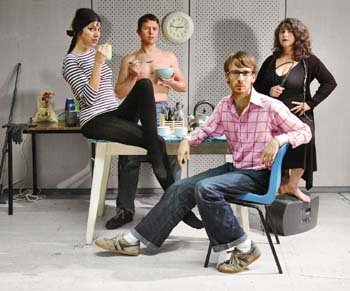 Gob Squad's Kitchen (You've Never Had It So Good)
In their first visit to Lancaster University's Nuffield Theatre, the Berlin-based Gob Squad deliver a stunning new live "film" based on Andy Warhol's seminal 1960s film Kitchen.
The original film captures the hedonistic experimental energy of the swinging sixties. Watch as Gob Squad attempt to recreate the atmosphere, style, and ultimately the point of the movie, without ever having seen it. How can they get it right? How do they know if they're going wrong? How did people dance in 1965? What did they talk about?
A multi-layered event that keeps you on your toes, Gob Squad's Kitchen (You've never had it so good) is an entirely improvised Theatre event which is never the same twice, just when you think you've got it – everything changes. So pull up a chair at the Kitchen table, sit back and observe.
'Gob Squad skip fearlessly along the thin line between fiction and reality, film and live action like reckless tightrope walkers.' – The Guardian
The Nuffield Theatre, part of the Lancaster Institute for the Contemporary Arts, presents:
Gob Squad's Kitchen (You've never had it so good)
8pm Wednesday 5th & Thursday 6th November
£10 / £7
www.nuffieldtheatre.com boxoffice@nuffieldtheatre.com Tel: 01524 594151