Waitrose Course launched
01/17/2003 11:11:04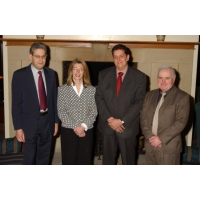 Lancaster's Plant Sciences for Industry group launched its tailor-made course in responsible agronomy for supermarket giant Waitrose at Lancaster House Hotel last week, and featured the best of the north west food in a special end of course dinner menu for delegates.
The course featured experts from the University including environmental scientist Vice-Chancellor Professor Paul Wellings.
An end of course dinner was hosted by Pro-Vice Chancellors, Professors Ray MacDonald and Richard B Davies. Also in attendance was Angela Megson, Director of Buying for Waitrose Ltd. The dinner menu was designed to showcase regional produce from the North West of England.