International Treasures - Peter Scott Gallery Exhibition
09/25/2002 10:23:03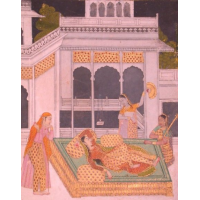 A wealth of diverse works from the University's Irene Manton Collection are celebrated in an exhibition of international art. This is a chance to see prints and paintings by Japanese and Chinese artists, African wood-cut prints and examples of Indian and Inuit art. European artists featured include Ernst, Derain, Kupka, Chillida, Picasso, Miró and Matisse.
Professor Irene Manton FRS (1904-1988) was an eminent scientist and Honorary Research Fellow in Electron Microscopy at Lancaster University. In 1988 Lancaster University received a number of paintings and prints from the Irene Manton Bequest, followed by a gift from Leeds University in 1995 of works previously owned by Professor Manton.
Professor Manton's interests in calligraphy and printmaking are reflected in this exhibition. The exhibition includes early European prints, such as 16th century engravings by Albrecht Dürer, as well as prints by leading innovative 20th century abstract printmakers such as Stanley William Hayter.
This is also an opportunity to see a selection of Middle Eastern, Greek and Roman antiquities from the Irene Manton Collection.
The exhibition will be opened on Monday 7 October by the new Vice-Chancellor Professor Paul Wellings.
Gallery open during exhibitions: 7 October - 11 December 2002 [closed Wed 4 December]
Monday - Friday 11am - 4pm
& Thursday evenings 6 - 8.30pm. Admission free.
School and group visits welcome - please call to book. Gallery Shop. Bus routes to the University from Lancaster city centre: 2, X2, 2A, 3 and 4. For those not on our mailing list please call the gallery on 01524 593057 to receive your free copy of our 2002/3 exhibitions programme. www.peterscottgallery.com