Return Visit For Campus Architects
11/20/2009 13:17:29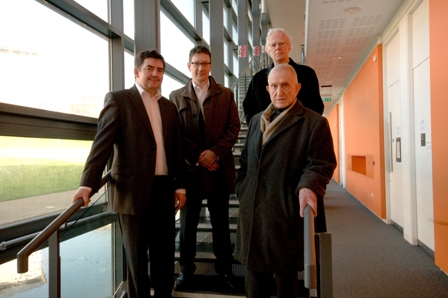 L-R Mark Swindlehurst, Tony Skipper, Peter Hunter and Professor Gabriel Epstein
Professor Gabriel Epstein and Peter Hunter, two of Lancaster University's original architects, visited the University last week to see the development of the site since building work started over 40 years ago.
During the visit they toured the campus with the Director of Facilities and met with the architects John McAslan and Tony Skipper from John McAslan and Partners, who helped producedthe current Masterplan.
The Vice-Chancellor hosted a dinner in their honour, and amongst the guests was Mrs Marion McClintock , University archivist and author of the official history of Lancaster University, "Quest for Innovation".
Shepheard and Epstein of London, were appointed architects in 1963 to design the new University. They designed the campus around pedestrian spines with buildings on either side opening out to squares lined with trees. Alexandra Square, which now has the newly opened Learning Zone, was intended to be the focal point of life in the University.
Professor Epstein who is now 91, said that to return to the campus was 'a very magical experience' and that it was great to see lots of activity going on as it did 40 years ago.
Peter Hunter said: " I have so much admiration for what has been achieved since I was last here 30 years ago . The campus has been transformed and it is incredible that there are now 17,500 students ."
He described the Learning Zone as a 'modern edition which enhances a classic design."
Accommodation for Lancaster's first students, who were admitted in 1964, was provided in the Wareing and Gillow Building renamed St Leonard's House in Lancaster while the Bailrigg campus was being developed.
The site chosen for the new University was 200 acres of farmland called Bigforth, 150 acres at Hazelrigg farm and 90 acres at Barker's House farm.
The original design incorporated the need for a sheltered and compact campus with covered walkways using an ordered grid system .The buildings were mixed together in a 'fruit salad of functions' to encourage the intermingling of people.
The visitors also met Mary Smith, wife of the late Donald Smith who was Head of Building Development Office in the 1960's.
More than £300m has been invested into the estate over the last 5 years, transforming the campus. Key developments include new academic centres of excellence, student social facilities, and improved teaching spaces and the student residences project in the UK with 4,400 new rooms. The latest phase of building has resulted in 'eco friendly' rooms which have won a number of environmental awards.
Future plans include the Waterside development which will provide facilities for part of the Lancaster University Management School, a new £10m building for the Lancaster Institute of Contemporary Arts, new facilities for the School of Health & Medicine and a new £20m Sports Centre.
Director of Facilities Mark Swindlehurst said: " We have learnt a lot from having Professor Epstein and Peter Hunter with us and it is interesting to see that we are going back to the original thinking in terms of architecture. The Masterplan lays down clear principles to follow and it is good to see that we have their support."