Cool university visit for sixth form
06/20/2007 11:31:56
Sixth form pupils are set to visit one of the coolest places in the Universe this month at a science and technology taster day at Lancaster University.
Around 150 pupils from Lancashire and Cumbria will take part in a series of workshops at the University ranging from a visit to an indoor wave making machine to a glimpse inside the world of computer animation – as well as a visit to Lancaster University's Ultra Low Temperature Physics group which recorded the world's coldest temperature of 5 millionths of a degree above absolute zero in 1993.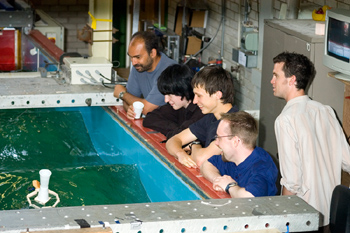 School children experiencing a wave tank in last year's Science and Technology taster event
On Wednesday, July 4, year 12 students will meet professors and students in departments including Maths, Biological Science, Environmental Sciences, Physics, Computing, Communication Systems and Engineering.
They will attend short lectures, take part in practical workshops and experience first hand the opportunities available to Science and Technology students at Lancaster.
Lancaster University Dr Alan Darragh said: "Lancaster University is consistently rated among the top Universities in the UK for teaching and research and the faculty of Science and Technology is home to two world-class centres – The Lancaster Environment Centre and ICT research, development and business centre InfoLab21.
"The taster day will give students a flavour of some of the fascinating work happening at Lancaster - which ranges from studying environmental change to developing new computer games - and hopefully inspire them to study here."
Schools attending the visit will include Blackpool Sixth Form College, Barrow Sixth Form College, Queen Elizabeth School, Kirkby Lonsdale, Kirkham Grammar school, Preston, Parrs Wood Technology College, South Manchester and King George V College, Southport.