Bowland graduate celebrates with Granddaughter
07/19/2005 14:23:30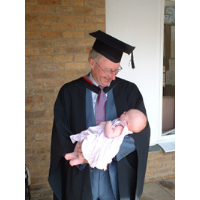 A Lancashire Grandfather was among the students graduating from Lancaster University this month.
Ken Lockett, who graduated with a BA in English Literature in the company of five week-old granddaughter Lily, had been planning his studies long before his retirement.
Mr Lockett first got the bug for education while studying for a Diploma in Engineering at night school and, following completion of his degree this year, is already planning his next venture.
He is keen to continue to develop his research skills and is now considering an MA.
Mr Lockett, a retired Planning and Logistics Manager, enjoyed his time at the University.
He said: "As a mature student I thoroughly enjoyed my three years at Lancaster, It was a worthwhile and stimulating experience. Perhaps what I learnt at university was that I now know what I don't know. All the younger students were perhaps at first a bit puzzled at finding someone my age studying alongside them but they soon treated me as one of them and I found them refreshing to be with. I will have fond memories of many of them."