£2.3m for Lancaster University to help train nuclear graduates
05/30/2008 13:39:56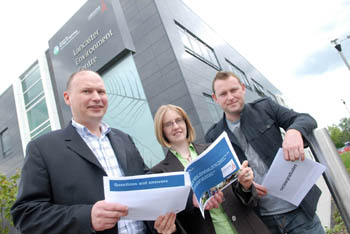 Director of CEEC Paul Blackmore, Project Co-ordinator Tara McLaughlin with NDA's National Graduate Programme Manager, Carl Dawson
The Nuclear Decommissioning Authority has awarded Lancaster University £2.3m to help run the most comprehensive graduate programme the nuclear industry has ever seen.
The National Graduate Programme will run initially over a 47 month period and is backed by more than 20 leading companies, from Rolls-Royce to BAE Systems and Toshiba, and aims to plug a nationwide skills gap in decommissioning.
The industry faces a shortage of not only qualified engineers but also graduates in finance, communications and marketing, HR and environmental science.
The NDA is responsible for the safe decommissioning of 20 former nuclear industry sites and needs graduates of all disciplines to help project manage this complicated process.
Twelve graduates from a variety of backgrounds have already been recruited for the first programme cohort of three, with placements organised through Lancaster University's Centre for Employability Enterprise and Careers (CEEC).
The Director of CEEC, Paul Blackmore, said the contract is an excellent opportunity for Lancaster.
"This will enable CEEC to gain a unique insight into the skills requirement of major recruiters. It will also provide networking opportunities with leading companies and enable us to ultimately increase employment opportunities available to Lancaster University students and graduates."
Paul also acknowledged the valuable contribution to the bid and ongoing support from Malcolm Joyce from the University's Engineering Department, colleagues in Research and Enterprise Services, Human Resources and the Finance department.
The graduates will be employed by the University on a 2 year fixed term contract and placed in three 6 month placements at nuclear installations across the UK as well as one 3 month international secondment in the United States, Japan, France or Sweden.
Carl Dawson, the NDA's National Graduate Programme Manager, said:
"Lancaster University has been awarded the contract due to CEEC's impressive 10 year record of providing similar student and graduate focused employer services. As a service which has regular contact with a vast range of graduate recruiters and other University Careers Services, it is also able to provide a unique perspective on what makes graduate development schemes attractive to today's graduates."
There will also be 480 hours of training with the aim of turning the graduate into a chartered professional. This will be a blend of behavioural and technical training offsite at the NDA's nuclear graduate training facility where subjects will range from team communication to commercial awareness.
The graduates will be supported by a directorial sponsor, training mentor and personal sponsor as well as individual project mentors and line managers. There will be the chance to work across the entire nuclear sector from decommissioning, energy supply, defence, nuclear processing and logistics.
A tenth of the time will be spent on corporate social responsibility, supporting local businesses, community groups and schools.
A nuclear careers counsellor will support the graduates at the end of the programme and their CV will be sent to each of the 20 organisations involved.