Getting a Headstart in Lancaster
01/21/2005 16:03:28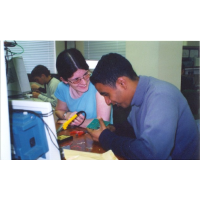 Lancaster University is offering dozens of school pupils a taste of student life this summer.
Pupils interested in pursuing a career in Computer Science will learn to attend lectures and work on design & build projects.
The Lancaster University course (4th to 7th July) is organised by Headstart, which provides summer schools at university for hundreds of Year 12/Lower Sixth Form students throughout the UK each year. This gives them hands on experience of life as a first year undergraduate before making their UCAS choices. It also gives them a rare opportunity to meet recent graduates in a relaxed environment. They hear about studying for a degree and routes to employment.
Whilst on campus, they meet other students with similar interests, and meet staff and graduates. They learn about careers in computer science, how to apply and which universities to approach for their degree course. They also join in social activities and visit the local area.
Headstart is part of the Royal Academy of Engineering's BEST programme and offers 30 courses at universities across Britain.
Schools interested in taking part in the scheme at Lancaster should contact Rebecca Marsden, 01524 510359, r.marsden@lancaster.ac.uk
More details can be obtained from the Headstart office by emailing enquiries@headstartcourses.org.uk and students can register on line at www.headstartcourses.org.uk