Media Centre Opens At Lancaster University
02/29/2008 17:04:49
Victoria Tyrrell, Head of Press at Lancaster University
Academics at Lancaster University will now be able to give live television interviews to media organisations across the world – without leaving campus.
Lancaster University's Media Centre – which was officially opened on Monday March 3rd by Richard Frediani Head of News, Regionals and Channels, ITV – includes a TV studio and radio booth and new offices for the University's press office.
The TV studio is shared with Granada Television which has moved onto the University campus after being based at White Cross in Lancaster for over 20 years.
However, any other media organisations - including the BBC - may use it for live interviews with academics, who can be interviewed in front of various backdrops of the campus.
This means that staff no longer have to travel to Manchester or London for TV interviews because the interview can be transmitted anywhere in the world. There is even out-of-hours access via security who can open up the TV studio in the evenings.
The first TV interview in the studio was with Prof Cary Cooper who talked about bullying in the workplace for BBC TV Look North.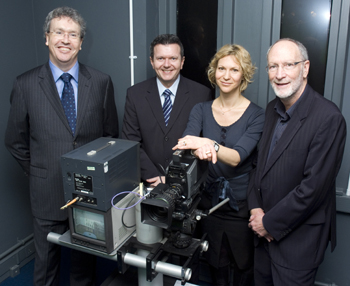 Vice-Chancellor Professor Paul Wellings, Richard Frediani, Victoria Tyrrell and Professor Cary Cooper
Granada TV's Head of News Richard Frediani said: ''Our new relationship with Lancaster University gives us access to a huge range of world renowned academics. Our award winning News Programme can only benefit from tapping in to this knowledge. The TV studio and radio booth will also help raise the profile of Lancaster University with broadcasters here and abroad, and therefore the millions of viewers and listeners who tune in to their Programmes.''
The soundproofed radio booth, custom made in the USA, enables users to give both live and pre-recorded interviews on campus via a digital phone line which ensures studio quality.
Cultural historian Professor Jeffrey Richards recorded the first interview in the new radio booth with BBC Radio Four in November last year. The programme on Billy Bunter's Birthday Bash was broadcast on Tuesday 19th Feb and was chosen as the Radio Four Pick of the Day.
An average of four interviews a week take place in the radio booth, with academics and staff broadcasting to large audiences via all the networks, especially for BBC Radio Four, BBC FiveLive and BBC local radio.
A waiting room outside the radio booth is equipped with a sofa and magazines while the adjacent Press Office means expert advice on how to handle interviews is always available.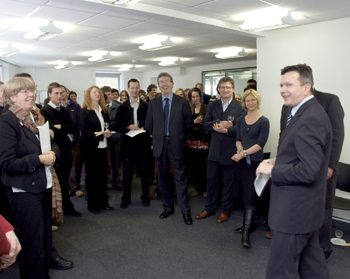 Richard Frediani addressing guests at the centre launch
Prof Cooper, the University's Pro Vice-Chancellor for External Relations said that the new facilities were an example of how the University and a media organisation could share resources and work together.
"We are delighted that Granada are now located at the University. Through the media, the University has a duty to communicate publicly funded research that is carried out to find solutions for major global and local problems. Our new Media Centre should build on our growing success in this area."
Opening hours are 8.30am to 5.30pm with out-of-hours access provided by security.
Contact the University Press Office for bookings on 01524 592103/593719 here or email v.tyrrell@lancaster.ac.uk