Ethical Sourcing For Businesses
09/11/2008 09:59:31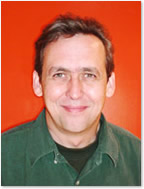 Social Enterprise Associate Jez Hall
Lancaster University Management School is to hold a business forum on ethical sourcing.
The free event on September 25 will bring together the practical expertise of business owners, researchers and campaigners to look at the complex issues around sourcing and using Fairtrade products and suppliers.
The Ethical Sourcing Business Forum is likely to be particularly relevant to those working within the food, drink and hospitality sector.
Jez Hall is the Social Enterprise Associate at the Institute for Entrepreneurship and Enterprise Development at Lancaster University Management School (LUMS).
He said: "Whether you are a hotel offering Fairtrade coffee and tea, a retailer selling organic or local produce, or are considering switching to less damaging raw materials in your factory then this event will be invaluable. It will offer a chance to network with local businesses, experts to answer your questions and lots of lively debate."
Last year Lancaster University earned recognition as a Fairtrade organization, offering Fairtrade goods widely across campus. The City of Lancaster achieved Fairtrade town status in 2004 and Garstang was a North West pioneer having been a Fairtrade town since 2001. Several other local firms have also signed up to Fairtrade products.
Dr Carole Howorth who is Senior Lecturer in Entrepreneurship at LUMS is a specialist in family and ethical businesses.
She said: "For some businesses sourcing goods ethically is fundamental to the way they do business. Others recognise it provides them with a competitive advantage, or offers a mark of quality that connects with their customers. But for many it is just one of lots of priorities that have to be juggled when running a business."
The free Ethical Sourcing Business Forum is funded by the University Friends Programme. It runs from 10.30 to 2.30 on September 25. Refreshments will be provided and Fairtrade products will be available to try including a Fairtrade chocolate fountain.
If you would like to come along please let us know by emailing us at ethical@lancaster.ac.uk or by calling Kim Ashby on 01524 510713.
http://www.fairtrade.org.uk/get_involved/campaigns/fairtrade_towns/towns_list.aspx