Pioneering Social Enterprise Project Is A Class Act
03/27/2009 13:01:43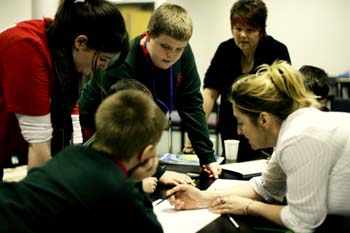 Overton St Helen's Primary pupils working with students and teachers
Student volunteers have helped over 150 schoolchildren from four primary schools to set up their own social enterprise in the first project of its kind in the UK. Lancaster University Volunteering Unit (LUVU) set up the Voltage primary school initiative, where children aged nine and ten have been working with student volunteers to set up their own socially responsible businesses.
Voltage – which LUVU plans to roll out to primary schools across the North West – aims to teach the children how to be financially capable while also giving them an insight into the importance of social enterprise and a hands on chance to run their own business, helping communities at home and overseas.
The pilot, funded by Lancaster University Friends Programme, involved over 150 pupils from four primary schools: Overton St Helen's, Lancaster Road, Scotforth St Paul's and Ellel St John's. Children ran a great variety of businesses. One example was a school selling reusable shopping bags and stickers encouraging people to use their recycling bins properly with their profits being spent on setting up a composting system within school and with the help of the council, putting up more bins in the school's surrounding area. Scotforth St Paul's Primary managed to raise more than £1,500 in less than a month for the Olivia Project, a school for streetchildren in Uganda.
Ben Matthews, LUVU director, said: "We set up the Voltage primary schools project as the first of its kind in the country and we have been overwhelmed by the success of this pilot project.
"The children have worked tirelessly and their unlimited imaginations have provided us with unique and successful social enterprises."
The Mayor of Lancaster, Councillor Keith Budden, attended a "Celebration" day for the pupils and helped to judge awards for the outstanding enterprise and exceptional team. These were judged on aspects including business sustainability, student ambitions, team work, responsibility to the community and the environment.
The celebration of the children's achievements adds to what has already been a great year for LUVU's School Partnership. The School Partnership has involved over 320 University students with 49 primary and secondary schools so far this year.