Deprivation is a key factor in why young children do not receive all their vaccinations
08/17/2011 00:00:00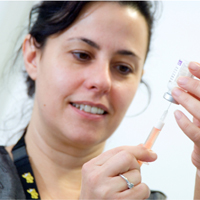 Research carried out by Lancaster University and NHS Central Lancashire has shown that deprivation is central to understanding why some children arrive at school without having completed all their routine vaccinations.

Health experts in central Lancashire are concerned that not enough children have received their pre-school booster vaccination and two doses of MMR by the time they reach their fifth birthday.

Complications from diseases like measles mumps and rubella can leave children blind, deaf and even lead to death.

The findings have now been published in the report Factors Determining the Uptake of Childhood Vaccinations: A Comparative Analysis of the Parents of Fully and Partially Immunised Children in Preston by Professor Roger Penn of Lancaster University.

The research involving a survey of 242 parents of young children in Preston has been carried out by Lancaster University and NHS Central Lancashire. The research explored why some children failed to complete the childhood immunisation programme and what factors affected the likelihood of their completion of the full course of immunisations. Of those surveyed 118 were parents of partially immunised children and 124 were parents of fully immunised children.

Professor Roger Penn said: "Deprivation, not ethnicity or religious affiliation, is the main factor determining childhood vaccination uptake.

"The research illustrates the value of the strong partnership between NHS Central Lancashire and Lancaster University in understanding and evaluating important public health issues and the results offer clear guidance on how to solve the problem."

Key findings included:

• Those living in the poorest areas of Preston were significantly more likely to have partially immunised children;
• Parents who had found making an appointment difficult and parents who had received no information on childhood vaccines were significantly less likely to have fully immunised children;
• There were complaints that waiting areas in surgeries and clinics were not 'acceptable', with lack of toys and long waiting times;
• Many respondents would have liked the choice of having their child immunised at home;
• Very few respondents referred specifically to the MMR scare but more than a fifth expressed concerns about possible side-effects of vaccines;
• Ethnicity, religion, language or country of origin were not significant factors.

Mary Kiddy, NHS Central Lancashire consultant nurse for health protection, said: "Only by understanding parents' concerns can we begin to tackle the issue of increasing immunisation in the under-fives.

"It is clear that the main factors determining uptake are ways in which the immunisation programme is delivered, rather than concerns about the safety of vaccines themselves.

"Issues such as difficulty in making appointments, unwelcoming staff and lack of confidence in health professionals who deliver the service are all issues which can be addressed.

"We have already started to work on the issues identified in the report and will be working with GPs and health visiting teams locally to change the way that the childhood immunisation programme is delivered. We have already carried out some targeted immunisation in the more deprived areas of central Lancashire and this gives us the evidence we need to strengthen this programme and to find a way to provide families with the option of home immunisation.

"Routine childhood vaccinations are one of the most effective ways of keeping children protected against infectious diseases. While immunisation levels for 2009-10 in central Lancashire are generally higher than national and regional averages for the same period, we still do not have high enough levels of immunisation to provide herd immunity [95 per cent], which protects the most vulnerable."

The Report Factors Determining the Uptake of Childhood Vaccinations: A Comparative Analysis of the Parents of Fully and Partially Immunised Children in Preston can be viewed online at www.centrallancashire.nhs.uk.

Other findings include:

Parents with negative perceptions of the 'knowledgeability' of health professionals were also significantly less likely to have fully immunised their child 

None of the respondents expressed hostility to immunisation per se. However, positive beliefs about immunisation were only expressed by a third of respondents