Lancaster – 1st for Graduate Employment and Careers
08/02/2010 13:15:40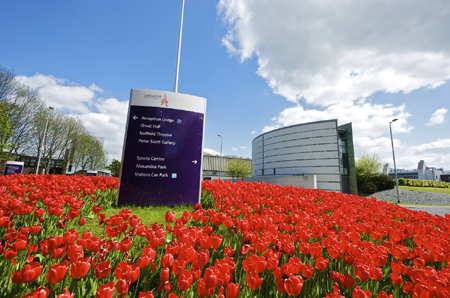 Lancaster University is rated 1st in the North in the most recent graduate employment league table published by the Higher Education Statistical Agency (HESA) and13th nationally on this measure as published in the Sunday Times 2009.
A total of 81.5 per cent of graduates from Lancaster are in a graduate level job six months after graduating according to the Guide. This compares well with an 85.3 per cent rate of graduate level employment for both Oxford and Cambridge, which are jointly ranked sixth.

These are excellent results and show Lancaster graduates are performing well in what is an increasingly competitive job market.

From your first days at Lancaster we will help you to lead a rewarding, fulfilling life beyond university; it is something we take very seriously. At Lancaster, the Careers Service (CEEC), Students' Union (LUSU) and academic faculties work together to give you the broadest, most responsive employability support possible and this is borne out by our overall position in the university rankings - 10th in the Times, 8th in the Independent and 6th in the Guardian.
To make this all happen, CEEC works with 4000 graduate employers across all sectors and with a range of professional bodies. The Placement Unit in CEEC works with students and employers to find work placements with local SMEs. LUSU offer over 500 local volunteering opportunities, our faculties provide 100s of paid, consultancy-based placements with employers and schools.
Lancaster's success in the graduate employment market is being further improved by the Lancaster Award - a new initiative administered by the University's Centre for Enterprise, Employability and Careers (CEEC). The award, which was designed with and endorsed by employers such as HSBC, Pepsico International and the Nuclear Decommissioning Agency ( NDA), prepares students for the job market by ensuring they develop the skills employers want, whether through work experience, volunteering or social activities.
They are then asked to complete a skills audit and job application before appearing before a mock job interview panel of an employer, careers advisor and academic. If successful, they gain the Lancaster Award which is proof for a future employer of marketable job skills. An integral part of the Lancaster Award is the Insight to Enterprise and Employability course which offers places to undergraduates across all disciplines.
Lancaster University Volunteering Unit (LUVU) is enabling students to develop work-related skills through community volunteering. With its partner organisation Create, which encourages students to become entrepreneurs, LUVU was last year awarded the title of the National Council for Work Experience's 'Work Experience Provider of the Year.' This academic year alone, LUVU has enabled 450 students to deliver initiatives that have made a real difference to the lives of 5,500 young people across Lancashire.
Employers serve as advisers to our volunteering programmes, and accredit degrees such as the The Ernst & Young Degree, BSc (Hons) Accounting, Auditing and Finance
The Lancaster Career Mentoring programme, organised by CEEC in collaboration with the Alumni and Development Office, has just completed its first year and has been a resounding success. Many of the mentors are Lancaster University alumni and the programme aims to help students link with industry, develop career management skills and prepare for the transition out of university and into the workplace. Mentees have had the chance to work shadow their mentors, gain valuable work experience, receive expert advice on developing their CV, undertake mock interviews, explore and plan their career.