Lancaster staff awarded for outstanding contributions
06/29/2007 09:15:23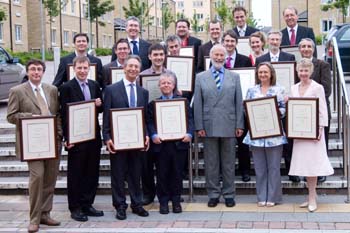 Staff received their prizes for excellent work from the Chancellor, Sir Christian Bonington
The outstanding work carried out by university staff has been recognised with the award of the 2007 staff prizes.
Prizes for research, teaching, community work, commercialisation and media and communication were presented by the Chancellor Sir Christian Bonington CBE to 13 members of staff at the award ceremony at Barker House Farm. For the first time, there was also an award for Excellence in Doctoral Supervision.
Dozens of staff, their families and guests arrived at the event to hear which nominations had been successful. There were two Community Prizes which were won by Sarah Hinton from LUVU, for her work in developing links between the Department of Geography and local schools, and Lesley Waite from the FASS Faculty Office, for her contribution to the work of Morecambe Lifeboat Station since 1993.
Dr Jason Moore, Dr Nigel Paul, Dr Jane Taylor and Dr Mike Roberts from the Department of Biological Sciences were jointly awarded a Commercialisation Prize for their work on the commercial use of a pesticide capable of protecting growing crops, as well as seedlings, from pests. The second Commercialisation Prize was awarded jointly to Dr Reuben Edwards and Dr Paul Coulton from the Department of Communication Systems for their prolific academic contributions to the InfoLab21 Knowledge Business Centre, including a mobile phone game and technology-based exercise game.
The Media and Communications Prize went to Dr Jim Wild, also from Communication Systems, for his promotion of science through projects including an exchange with local MP Ben Wallace in Westminster and the launch of an interactive website www.sunearthplan.net
The largest category was for Teaching, with four prizes which went to: Professor David Sugarman for his work on an undergraduate law course, Dr Reuben Edwards for his postgraduate teaching, Robert Blake of CELT for his teaching of communication skills to science and technology students and Dr Alexandre Chilingarov and John Windsor of the Department of Physics for enabling undergraduates to investigate and use particle detectors.
Two Research Prizes were awarded to staff in the Department of Physics. Joint work by Dr Vadim Cheianov, Dr Edward McCann and Prof Valdimir Falko into Graphene – the first known two-dimensional solid – earned them one prize, while Dr Guennadi Borissov, also from Physics, was awarded a second Research Prize for his attempts to explain the "Big Bang" theory.
The third Research Prize went to Dr Thomas Dixon of the Department of History, who has taken the study of the history of ideas in a new direction with work on language change.
A new Staff Prize this year is for Excellence in Doctoral Supervision, which was awarded to Dr Stephen Constantine of the Department of History, for his sustained record of successful supervision which has benefited many postgraduates over the years.