InfoLab21 is a key player in new Digital Network
02/10/2009 13:33:48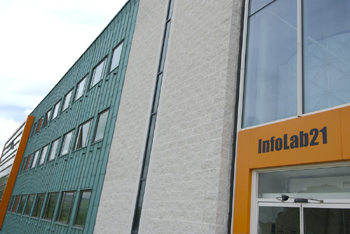 InfoLab21
Lancaster University's InfoLab21 is playing a key role in the drive to promote innovation in the UK digital communications sector.
Lancaster University is one of only two Universities on the board of the government-funded national Digital Communications Knowledge Transfer Network (DC-KTN).
The Network aims to create a competitive advantage for the UK by encouraging idea sharing, collaboration and knowledge-exchange between users and providers of digital communications.
Since its launch, the Network membership has been growing rapidly and now includes some 40 Universities as well as more than 200 companies.
Digital Communications is a vital component of the UK economy. It underpins telecommunications, broadcasting and ICT and transformational technology in such areas as energy, the environment, assisted living, health and transport.
The DC-KTN was established with funding from the Technology Strategy Board and with support from InfoLab21.
InfoLab21, Lancaster University's world-class research, development and business centre in Information and Communication Technologies (ICT), is an innovation hub which has provided specialist support for over 400 regional SMEs. InfoLab21 hosted the launch of the Digital Communications KTN in the North West last December and shares many of the same aims as the DCKTN, such as bringing industry and academia closer together and stimulating and assisting collaborative research and development.
Philip Hargrave, Director of the DC-KTN, said:
"Establishing a relationship with centres like InfoLab21 which have an impressive research base, established knowledge transfer activities and mutually beneficial links with regional businesses will help us achieve our aims for developing and improving the sector on a national scale."
The DCKTN also provides a forum for a coherent business voice to inform government of its technology needs and about issues which are enhancing or inhibiting technological innovation in the UK.
David Hutchison, Director of InfoLab21 and DCKTN board member, said:
"InfoLab21 is proud to support the DCKTN and as a member of the board I hope to help the DCKTN to achieve its aims and develop a common view of the research challenges and educational needs of the sector."
Steve Riches, Director of InfoLab21's Knowledge Business Centre added:
"There is a natural fit between InfoLab21 and the DCKTN. The DCKTN will provide further opportunities for our businesses and researchers to meet and network with key individuals and organisations from within the UK and overseas, encourage increasing inward investment and promoting growth within the sector."
The DC-KTN is open to all who are involved in any way as a user or provider of Digital Communications, whether undertaking university research or working as a solution provider, system integrator, network operator, service provider, broadcaster, or in an adjacent sector for which Digital Communications is a transformational technology.