A new future unfolds for student entrepreneur
05/14/2010 09:28:58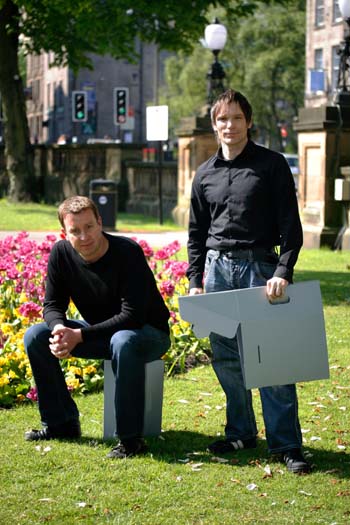 Martin Horner and Rick Casson
A Lancaster University student has launched a business venture selling eco-friendly fold up furniture for large-scale events. Rick Casson, 36, who is from Whitehaven, Cumbria, has launched his own range of flat-pack, low cost, recyclable furniture under the trade mark FOLD.
Designed and produced in the North West, the range of tables and chairs features smooth, plain surfaces featuring bespoke designs, which don't cost the earth. They can be used as a promotional tool for businesses and even as a canvas for new designers looking to get their work to a new audience.
So far his product has been causing ripples in the design world, attracting the attention of Wayne Hemingway, the Italian edition of Glamour magazine and enquiries from as far afield as Sweden and Italy.
Rick, who is currently completing a one year MSc in Engineering at Lancaster University' s Product Development Unit, said the original inspiration for his business came back in the 90s when he was an undergraduate hanging out at festivals where there was a lack of seating and in student houses with mismatched furniture.
With valuable support from Businesslink, he began working on his idea, coming close to securing orders with big name brands and winning a design competition in 2006.
But it wasn't until he sought the help of Lancaster University's Student Union enterprise unit Create and they put him in touch with Lancashire entrepreneur Martin Horner, owner of The Borough in Lancaster, that his venture really took off.
Rick said: "Create gave me my first investment of £1,300 and introduced me to Martin. We hit it off straight away. He believed in my idea and me. He offered to invest in me and more importantly he's got years of experience.
"I knew my idea was strong and had potential but for a long time it had just been a dream which I'd put on the back burner as family and the realities of life took priority.
"I'm just immensely grateful to the University for giving me this opportunity and if I hadn't come to study at Lancaster and gone to see Create that day I don't know when or if any of this would have happened.
Martin said: "Rick and I got on straight away, with the pressures of business this is very important and often overlooked. I'm grateful to Joe at Create for putting us together and look forward to developing the business with Rick over the coming years."
Create Manager Joe Buglass said: "Rick's idea is one of the most interesting I'd seen in a long time and he'd instinctively done a lot of the right things already. FOLD demonstrates the potential that Create has to help out those students with a solid idea. Its also a great to see the university and the local business community working together. "
FOLD uses the latest printing and production techniques to produce simple, functional seating and tables where a quick affordable solution is required.
The company produces one-off bespoke printed designs, to large-scale events to clients' specification that don't cost the earth. For more information go to http://fold-uk.com/
For more information about Lancaster University's Student Union enterprise unit Create go to http://create.lusu.co.uk/