Opening of Lancaster Square
12/10/2009 12:26:25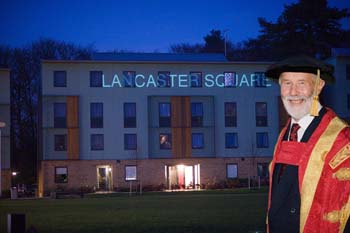 The Chancellor in Lancaster Square
The Chancellor, Sir Chris Bonington, has presided over the official naming of "Lancaster Square".
The creation of Lancaster Square, informally known as "County Piazza", forms part of the development of the North of campus, which has included the refurbishment of County College and the building of the award-winning Eco-residences.
The event took place forty years to the day since HRH Princess Alexandra, as Lancaster University's Founding Chancellor, opened the County College, so named because it was a gift from Lancashire County Council.
Before cutting the ribbon, the Chancellor Sir Chris Bonington said: "Lancaster has got a tremendously rich history and we couldn't have a better name than Lancaster Square. I'm very proud and privileged to declare it open."
The event on Wednesday December 9 was attended by staff and students, including the Principal and JCR President of County College, LUSU President Michael Payne and Project Managers from Facilities.