Lancaster University Scores Top Marks for Green Initiatives
07/11/2008 11:42:27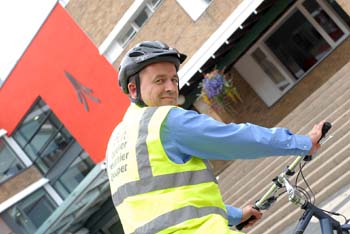 Environment and Sustainability Manager Jonathan Mills
Lancaster University has achieved top marks for its environmental policy in a league table of green universities in The Independent.
The newspaper looked at all British universities based on nine criteria, from whether they have Fairtrade status to how much recycling they do and their CO2 emissions.
Lancaster scored a maximum 12 out of 12 for the numbers of environmental staff and 9.5 out of 10 for its environmental policy. Overall, Lancaster University was ranked 43rd out of 119 universities in the league table.
Lancaster's Environment and Sustainability Manager Jonathan Mills said the University's ranking was partially based on environmental performance data from August 2006 to July 2007 and so did not reflect current environmental initiatives and recent improvements in environmental performance.
"Improvements in our environmental performance will take some time to feed through to these statistics, but we are confident that projects under way and in planning will make produce significant improvements in our environmental performance in future years."
"We've been doing a lot since last year, with improvements in recycling facilities for example increasing recycling rates across the campus from around 6 per cent or so in 06-07 to over 20 per cent for 07-08. We've also signed up to the Higher Education Carbon Management Programme (HECMP), but will probably not see the impact of projects forming part of the HECMP in the statistics for two years. The HECMP itself is a major programme which will enable us to identify and prioritise carbon management and energy efficiency projects across campus."
The three greenest campuses in the Independent guide are the University of Gloucestershire, which comes top, followed by the University of Plymouth in Devon and the University of the West of England in Bristol. The London School of Hygiene and Tropical Medicine was ranked at the bottom.
The rankings were compiled by People & Planet, the student organisation that seeks to end world poverty and protect the environment.
James Lloyd, head of campaigns at People & Planet, said: "The green league is driving up standards by promoting best practice and shining a spotlight on poor environmental performance. It is a vital tool for students who want to know exactly how green a university is, giving them the information they need to make decisions based on environmental standards."