Promoting Colleges and the Student Experience
03/01/2006 08:40:58
Amanda Chetwynd sees her new role as Pro-Vice Chancellor for Colleges and the Student Experience at Lancaster University as a wide remit stretching from promoting the college system to improving student employment.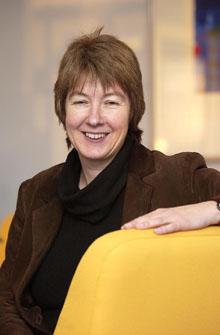 Professor Amanda Chetwynd
" It is a wide-ranging brief, and there are many things that I want to achieve. Top of the list must be to represent all of the different groups of students that we have at Lancaster. We must recognise and cater for students who live off campus, full time and part time students and post graduate students, all of whom have different needs," says Professor Chetwynd who is Professor of Statistics, and until recently was Director of Undergraduate Studies.
" The college system involves many members of staff, often voluntarily, working hard to ensure that the nine colleges continue to be a significant part of the Lancaster experience. The work of the Students' Union is also extremely important. I especially want to support the exemplary work that students are doing in the community, particularly through the work of the Volunteering Unit.
"I want the University to continue to think about the changing needs of students when we design new buildings – for example, open plan space in the new Leadership Centre works really well when students need to work in small groups. Some groups of students live for 52 weeks of the year on campus and they need to be catered for. The recent extension of the Library opening times was a welcome development."
The job has changed focus from that of her predecessor, Alan Whitaker, with more emphasis on the 'student experience'.
"The student experience embraces the curriculum, learning environment, accommodation, and social life.
" With the introduction of top up fees this year I am in no doubt that students and parents will expect more from universities and will want the university experience to prepare them for rewarding employment."
"There are already so many positive things about the Lancaster experience and I want to make sure that we emphasise these benefits to potential students."