The Wray Flood of 1967 - memories of a Lune Valley Community
04/19/2002 16:03:27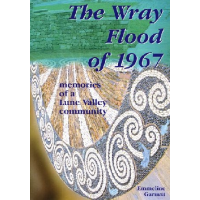 The latest publication from the Centre for North-West Regional Studies is entitled The Wray Flood of 1967 - memories of a Lune Valley Community. The legacy of the extraordinary flood of 1967 is enshrined in the folk history of the village of Wray in the Lune Valley, near Lancaster. A flash flood of incredible speed and ferocity in the river Roeburn left a trail of destruction that resulted in the loss of houses, bridges, livestock, vehicles, and personal possessions. Remarkably, despite the scale of the devastation caused by the flood, no serious harm was done to the people of the village and surrounding area.
A notable illustration of the strong sense of identity and community within the village of Wray is the renowned annual Scarecrow Festival and Fair, which attracts tens of thousands of visitors each year. The continuing significance of the Flood of 1967 is demonstrated in the Millennium Mosaic, completed in September 2000, which represents the wind and storm spewing out a great tide of water, and which is featured on the cover of the book. The Mosaic is sited in the 'Flood Garden' on the site of houses demolished as a result of the flood.
Emmeline Garnett, the author, has used her skills as an historian to piece together the remarkable events of 8 August 1967, and the book is lavishly illustrated and contains a number of contemporary photographs showing the sheer scale of the devastation caused.