Researchers discover new dialect
12/04/2006 09:58:34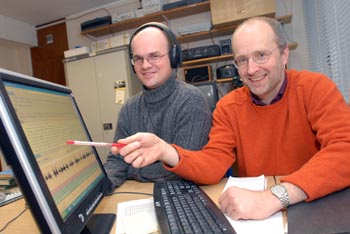 Dr Eivind Torgersen (left) listening to speech recordings with Prof Paul Kerswill
A new type of teenage language in London has been identified by researchers at Lancaster University in the first ever major study of language change in London.

They found that young people in the inner city have developed their own multi-ethnic accent which is spreading outwards from the capital.

The £280,000 project, which is run jointly with a team from Queen Mary, University of London, involved over 100 hours of recordings with 16 to 19 year olds which were analysed by Professor Paul Kerswill and Dr Eivind Torgersen of the Department of Linguistics and English Language.

They compared the speech patterns of teenagers in Hackney with elderly people and what they found surprised them.

Prof Kerswill said: "The older people sounded Cockney but the 16 to 19 year olds have a very different pronunciation.For example, instead of saying "face" like "fice" or "go" as "gow" as in Cockney, they say "fehs" and "goh", which is more like Jamaican English, although these vowels are also found among speakers with Asian and African backgrounds."


This vowel shift is most obvious in the speech of teenagers from the ethnic minorities, though it can be heard among people from all ethnic backgrounds in Hackney, one of the most ethnically diverse areas in England.

The teenagers also used words like "blud" (blood, meaning mate), "creps" (trainers), "yard" (house), and "endz" (area or estate).

Prof Kerswill believes this new form of speech, which they refer to as Multicultural London English (MLE), arose as more recent immigrants learned English with few English-speaking role models.

"I think there has been a change in the last 30 years. The first generation of Afro-Caribbean children in London would have spoken Cockney, but they would have kept their own Caribbean patois and switched between the two.Now their descendants – and young people of other ethnicities – are inventing a new form of English."

He believes that MLE, popularised by London grime stars like Lady Sovereign and Dizzee Rascal, is here to stay.

"We thought that dialects in England were being watered down as people move around. But what's happening in London is the opposite – immigration is creating a new dialect which could spread outwards as people move out of the inner city.

"My hunch is that these teenagers won't grow out of it when they're older because it's much harder to change your pronunciation as an adult. What happens in London usually influences the rest of the country and that's true of dialects too."


The three year project is funded by the Economic and Social Research Council.