Dancers In Aerial Performance at Nuffield Theatre
04/10/2008 17:00:25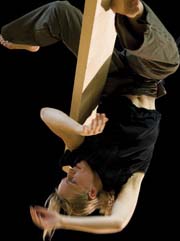 Gravity&Levity in performance
The Nuffield Theatre at Lancaster University is delighted to present an enthralling evening combining circus, dance and acrobatics.
SHIFT, performed by Gravity & Levity on April 29 and 30, is commissioned in part by the Nuffield and is a unique airborne experience that unfolds above and around the audience.
SHIFT consists of a triple bill bringing together a wealth of British talent. This includes the artistic director Lindsey Butcher, and also Luke Cresswell and Steve McNicholas, the duo behind the legendary STOMP – now playing to sell-out audiences around the world.
SHIFT uses a moving set of wooden planks and steel bars to create a vertigo inducing framework suspending the dancers from ceiling beams above the stage. In doing so it pushes performers to their limits, challenging their co-ordination and physical strength, whilst retaining the beauty of dance throughout.
SHIFT offers up breathtaking entertainment, and is proof of the Nuffield Theatre's ongoing success in finding performances that overflow with both innovative ideas and virtuoso skill.
8pm Tuesday 29 April & Wednesday 30 April £8/£6
For further information on SHIFT and the work of the Nuffield Theatre