Children Needed For Psychology Research
03/18/2010 15:14:37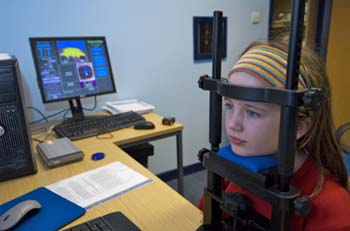 Rosie Mills taking part in the research
Children have been helping psychologists at Lancaster University carry out research which may ultimately help people suffering from conditions including stroke, epilepsy or mental illness.
Up to 50 young volunteers aged from 7 to 17 are needed for the first ever study of its kind into what happens when we look at different facial expressions. The volunteers' eye movements are tracked, giving insights into how the brain processes information.
Among the first volunteers were nine year old Rosie Mills and seven year old Hamish Mills from Bowerham Primary School. They came onto campus where they looked at video images of 240 facial expressions including happiness, sadness and fear while their eye movements were filmed.
Rosie said: "Some of the expressions are quite funny and I like coming here because it's better than school. This is more interesting because I haven't done it before."
Researcher Judith Lunn from the Centre for Research in Human Development at Lancaster University said: "We need to study normal eye movements so we can be aware of how people's gaze is affected by, for example, having a head injury which may slow down response time. There is also evidence that people with various conditions such as autism and schizophrenia have different reaction time to facial expressions and make more errors in interpreting faces. But first we need to find out exactly how the eye looks at faces and interprets expressions."
Their mother Abi Mills said she enjoyed bringing the children onto campus.
"I feel that this is really important because in the long run it could help other people – and the children really enjoy a trip up there because it's exciting."
Judith said: "We want to look at how the different emotions are affecting children's attention. At the end of the study we hope to have a better understanding of how children understand emotions and how this develops."
The pilot study is funded by the Medical Research Council, the Economic and Social Research Council and collaborates with NHS Trusts in the North West.
The study will take no more than one and a half hours and participants will be paid £5 plus travel expenses and tea and biscuits. Results will be completely confidential. For more information contact Judith Lunn on 01524 593127.