Lancaster University Student wins bike for encouraging cycling on campus
01/09/2008 10:17:49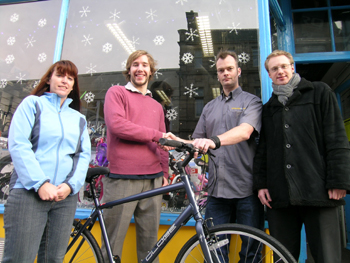 Rachel Scott (CDT Team), Ben Evans (winner), Colin Gardner (Leisure Lakes) and Philip Longton (Travel & Environment Coordinator, Lancaster University)
A Lancaster University student has won himself a bike with his top ideas to encourage others to cycle on campus.
Lancaster City Council's Cycle Demonstration Town (CDT) Team staged a competition to give Lancaster University students the chance of winning a free bike.
The competition asked them to send the team a cycling photo and a bright idea on how best to promote cycling on campus.
The winner, Ben Evans, a third year English student at Lancaster University suggested offering students information on where to get a second-hand bike and subsidised bike locks.
Ben also provided a campaign slogan to encourage more students to think about the benefits of cycling: "Bikes - a Student's Exercise Regime".
Ben was presented with a specialised Globe bike from Leisure Lakes, Penny Street, Lancaster.