Businesses benefit from eco-design
11/15/2006 16:48:42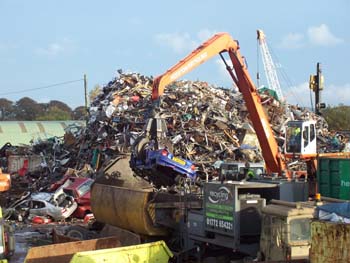 The event included a trip to a recycling plant in Preston
Over 35 delegates from across the North West and the East Central Region of Sweden have benefited from expert advice from Lancaster University on how to make environmentally friendly products.

The Eco-Design Workshop was held at the Solaris Centre in Blackpool, which is itself a leading example of eco-friendly building design. The two-day event, funded by the EU Interreg IIIC Programme, aimed to share best practice between companies in both Sweden and the UK on how to promote sustainability.

It was organised by the University's Product Development Unit and included visits to a recycling plant in Preston and tours of InfoLab21 and the Engineering Department, where the Unit is based.

The companies attending included furniture companies Lamoury Design from Garstang, Raw Studio Ltd from Skelmersdale and Green Seats from Cumbria as well as mhf:creative Ltd from Blackpool and Wesmar Bio-Energy Ltd from Bilsborrow near Preston.
Dr Allan Rennie, Manager of the Lancaster Product Development Unit, said: "Green Seats use recycleable material in the manufacture of their furniture, mainly seats from hemp or cardboard. It's all about using design to reduce the amount of natural resources we use and optimising material usage. This is becoming ever more important with government and EU legislation to try to make companies reduce the amount of materials they use in a product.

"The opportunity to bring such a diverse range of delegates together for this event has not only highlighted the issues regarding sustainable design in the North West, but allowed for dissemination far and wide through networks both here and in Sweden."

The event included presentations by companies from Sweden who shared their best practice on environmental sustainability. There will be a return visit to Sweden next year by delegates from North West companies.

Dr Rennie said: "This will allow them to see first hand how their counterparts in Sweden are incorporating eco- and sustainable design into their working practices."

The SIMPLE Project (Successful Implementation of Eco-Design in SMEs) forms part of a larger EU programme called 'TOWER' (Towards Sustainable Excellence by Innovating Regions). Various organisations in Sweden are also participating in the project including Linkopings University, the Östergötland County Administrative Board, Uppsala County Administrative Board and ALMI Företagspartner Uppsala AB.