Solaris scoops North West Property "Oscar"
05/25/2006 08:54:25
Blackpool's Solaris Centre has been named sustainability project of 2006 at the Northwest's most prestigious property awards.
The RICS (Royal Institution of Chartered Surveyors) named the former 1930s Art Deco solarium as the most outstanding sustainability project in the region at the 2006 RICS Northwest Awards.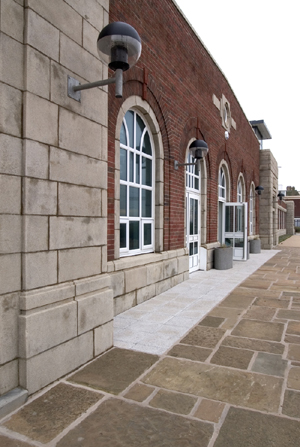 Solaris
Solaris is a joint partnership between Blackpool Borough Council and Lancaster University. The building, on Blackpool's South Shore Promenade was designed to encourage and promote environmental excellence and sustainability throughout the region and beyond

Judges described Solaris as 'a multi-purpose centre of excellence for business community, tourism, training and the environment'.
They added: "Solaris is considered a flagship regional regeneration project and visitor numbers are high."
The centre was announced as a winner at a gala dinner held in Manchester's New Century House and hosted by Granada TV's Lucy Meacock. Award winning property developer Tom Bloxham MBE of Urban Splash was guest speaker.
The awards have been developed to recognise the best new projects in the built and natural environment. They celebrate every aspect of rural and urban regeneration and reward those organisations and individuals developing and conserving the environment. The Solaris is one of four of the regional prizewinners, which will now be entered into the national awards, due to be announced in London later in the year.
In recognition of the growing importance of rewarding such work, this year the scheme was supported by the Northwest Regional Development Agency (NWDA) - the body responsible for the sustainable economic development and regeneration of England's Northwest.
Coun Fred Jackson, Blackpool Borough Council Cabinet Member for the Urban Environment, said: "We are extremely delighted that this fantastic and innovative building has picked up another top award following the LGC Environment Award earlier in the year.
"The Solaris Centre represents Blackpool Council's vision of creating a sustainable, state-of-the-art resort for the 21st Century; one which not only provides places for tourists, but strengthens and connects communities by offering outstanding facilities."
Linda Adams, regional director of the RICS in the North West, said: "The Northwest is awash with amazing property developments in both city centres and rural areas. It is fantastic to see how brand new developments add to the character of an area and how restoration projects capture a different era. All of these schemes add something to the region."
Steven Broomhead, NWDA Chief Executive, said: "The NWDA was pleased to support the 2006 RICS Awards, in recognition of the valued contribution the property industry makes to the regeneration of the Northwest. The high quality of entries this year demonstrates the strong commitment to excellence in the property sector and highlights the broad range of projects being undertaken to improve the region's built environment.".