Scientists and engineers for Britain's future
12/18/2008 08:11:23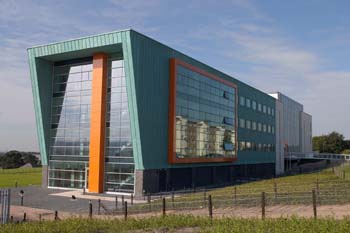 InfoLab21
Lancaster University is to play a key role in two new centres that will generate the scientists needed for Britain's future.
The funding has been announced by the Engineering and Physical Sciences Research Council – the UK funding body for science and engineering.
Lancaster is set to receive around £5m to fund a new Digital Economy Innovation Centre to educate a new generation of PhD students. The funding will enable around 50 PhD students over 5 years to become the innovators of the future - trained to work at the cutting edge of the Digital Economy.
Lancaster University is also a partner in the Northwest Nanoscience Doctoral Training Centre (NOWNANO) led by Manchester University. NOWNANO aims to train 100 PhD students (half of those fully funded by EPSRC) who will receive taught courses in materials, nanoscience and nanotechnology and participate in multidisciplinary research projects ranging from the fundamentals of nanoscience to application of nanodevices in engineering and medicine.
Professor Vladimir Falko (Physics) who leads Lancaster's contributions in NOWNANO said: 'The participation of Lancaster condensed matter theorists in the Manchester-led DTC and Science&Innovation Award marks the decade of strategic cooperation between the two leading Universities in the North-West in training postgraduates and world-leading research in nanoelectronics, including the recent progress in the fundamental science of graphene and development of graphene-based devices.'
EPSRC Centres for Doctoral Training are a bold new approach to training PhD students, creating communities of researchers working on current and future challenges. Seventeen of the new centres will be industrial training centres that will equip their students with the business skills they need to turn pioneering ideas into products and services, boosting their impact on the UK's economy.
Minister of State for Science and Innovation, Lord Drayson, announced the £250million initiative which will create 44 training centres across the UK and generate over 2000 PhD students. They will tackle some of the biggest problems currently facing Britain such as climate change, energy, our ageing population, and high-tech crime.
Lord Drayson said: "Britain faces many challenges in the 21st Century and needs scientists and engineers with the right skills to find answers to these challenges, build a strong economy and keep us globally competitive. EPSRC's doctoral training centres will provide a new wave of engineers and scientists to do the job."
Professor Gordon Blair, Director of the Lancaster University Digital Economy Innovation Centre, said: "This is fantastic news for Lancaster and we are really excited about so many aspects of this centre.
"It gives us the chance to bring together our core strengths in Computing, Management and Design in innovative ways, to really change the way we think about doctoral education and to work with industry - including small and medium sized enterprises in the region - to bring about innovation in the Digital Economy."
Kevin Thistlethwaite from global management, engineering and development consultancy Mott MacDonald , one of the companies in line to work with Lancaster's new Centre , said:
"This is excellent news for Lancaster University and true recognition of their contribution to the development of design and computer science in the UK.
We believe the design and computing faculties at Lancaster to be amongst the best in the UK and selected them to be our academic partners in delivering innovative and pragmatic advice to our clients across both public and private sectors."
Professor Dave Delpy, chief executive of EPSRC, said: "People are the heart of our future strategy. We want to drive a modern economy and meet the challenges of tomorrow by investing in talented people and inspiring the next generation of scientists and engineers."
The multidisciplinary centres bring together diverse areas of expertise to train engineers and scientists with the skills, knowledge and confidence to tackle today's evolving issues. They also create new working cultures, build relationships between teams in universities and forge lasting links with industry.

Students in these centres will receive a formal programme of taught coursework to develop and enhance their technical interdisciplinary knowledge, and broaden their set of skills. Alongside this they will undertake a challenging and original research project at PhD level.
In addition Lancaster University will recieve over £1m to expand theoretical research in the novel electronic material graphene (one/two atom thin graphitic layers), as part of a £5m Science&Innovation Award shared with Manchester University. This research is led by Professor Vladimir Falko from Physics. The competitive Science&Innovation Awards are provided by EPSRC and HEFCE to guarantee the UK leadership in strategic research areas.