LANCASTER PROFESSOR WINS PRESTIGIOUS NATIONAL TEACHING AWARD - 4 Winners in a row
07/16/2003 12:05:06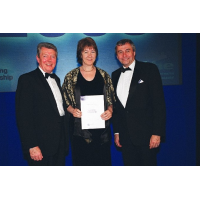 Professor Amanda Chetwynd has received a prestigious national teaching award worth £50,000 in recognition of her outstanding contribution to learning and teaching. The award was presented by the Minister for Lifelong Learning, Further and Higher Education, Alan Johnson, at a gala event in Westminster.
Amanda is one of 20 winners of National Teaching Fellowships, chosen from 81 nominations submitted by higher education institutions across England and Northern Ireland, each was awarded £50,000, to be used for projects that will make a significant contribution to learning and teaching.
The University of Lancaster has achieved the unique distinction of having a winner in each of the four years of the National Teaching Fellowship Scheme to date. Previous winners of the Fellowships are Mike Winstanley (History) 2002, Susan Armitage (HEDC) 2001, Mick Short (Linguistics) 2000.
Amanda Chetwynd is a Professor in the Department of Mathematics and Statistics at Lancaster University. Her work involves not only teaching maths in the University, but also recognising the roles of policy, context and collective activity in enhancing the learning experience, developing ways of teaching mathematical proof with 11-16-year olds, and various initiatives to encourage women in mathematics and science. She will use her Fellowship to develop the links between the study of maths at school and university and address the challenges of decline in and lack of engagement with mathematics.
The National Teaching Fellowship Scheme (NTFS) recognises and rewards lecturers or learning support staff in higher education for their excellence in teaching. It is managed by the Institute for Learning and Teaching in Higher Education (ILTHE) on behalf of the Higher Education Funding Council for England and the Department of Employment and Learning in Northern Ireland.
Photograph: L - R Alan Johnson MP, Minister of State for Higher and Further Education, and Lifelong Learning, Professor Amanda Chetwynd and Professor Sir David Watson, Chair of the NTFS Advisory Panel