Professor Cary Cooper Joins LUMS
10/06/2003 15:56:40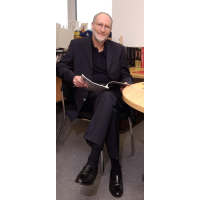 One of Britain's most quoted business gurus, Professor Cary Cooper, CBE, is joining Lancaster University Management School as Professor of Organisational Psychology and Health. Professor Cooper is currently president of the British Academy of Management. Cary Cooper will be leaving the Manchester School of Management (part of UMIST) to join LUMS in October.
This high profile transfer to Lancaster is the first of several major new faculty announcements. Keith Grint, Director of Research at Saïd Business School at Oxford University, will be joining Lancaster in Easter 2004 and Pradeep Yadav, previously Professor in Finance at Strathclyde University, has also been appointed.
Sue Cox, Dean of Lancaster University Management School said: "Lancaster University Management School is proud to be attracting high calibre academics who will add to the excellent body of research at the school. We value our position as a six-star RAE-rated business school and are delighted to welcome Cary as he brings expertise in a significant and relevant area of stress management and working life issues."
Cary Cooper, said: "Lancaster is one of the best business schools in the country and I am excited about joining the academic team. There is a real sense that the excellence in research being carried out at Lancaster is attracting like minded academics and I am looking forward to my time at the school."
Cary Cooper's new book 'Stress and Strain' has just been released. This is a guide which will be circulated to GPs across the UK. Cary is the President of the British Academy of Management, a Companion of the British Institute of Management and one of only 3 UK Fellows of the (American) Academy of Management.
Professor Cooper is a national ambassador for The Samaritans, Founding Editor of the Journal of Organizational Behavior, Co-Editor of the medical journal Stress Medicine, and Co-Editor of the International Journal of Management Review. He is the Editor, jointly with Professor Chris Argyris of Harvard Business School, of the international scholarly Blackwell Encyclopedia of Management and the Editor of Who's Who in the Management Sciences. He has been an advisor to the World Health Organisation, ILO, and recently published a major report for the EU's European Foundation for the Improvement of Living and Work Conditions on 'Stress Prevention in the Workplace'.
Professor Cooper won the 1998 Distinguished Service Award for his contribution to management science from the Academy of Management. In addition he is the President of the Institute of Welfare Officers, Vice President of the British Association of Counselling and Patron of the National Phobic Society. He is a Fellow of the British Psychological Society, The Royal Society of Arts, The Royal Society of Medicine, The Royal Society of Health, and an Academician of the Academy for the Social Sciences.