Live Webcam of Birdnest Online
05/30/2008 12:35:22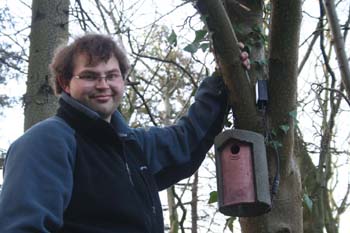 Richard Du Feu who helped install the webcam inside the birdbox on campus
Live pictures of a nesting Blue Tit at Lancaster University are now available on the web thanks to a new project run by Cumbria and Lancashire Education Online.
In spring this year a camera was installed in a new bird box in the University grounds by Lancaster University Network Services (LUNS) on behalf of Cumbria and Lancashire Education Online (CLEO). The project was set up to provide a live resource for children to use across a wide range of curriculum areas.
One of these bird boxes is now inhabited by a Blue Tit together with five chicks and two remaining eggs.
The cameras were installed by Richard Du Feu and Paul Boyd, both Lancaster University engineers. Richard is a very keen ornithologist, licensed to handle live chicks, and his advice and guidance has been invaluable to the project.
He said: "This provides an excellent chance for children at schools to see the rapid growth of birds in the nest from egg to fully grown in under 4 weeks."
CLEO is one of ten English Regional Broadband Consortia and is made up of Cumbria County Council and Lancashire County Council. Originally formed in 1998, the CLEO broadband network provides high-quality private broadband network for all schools across Cumbria and Lancashire.
Lancashire County Councillor Vali Patel, cabinet member for schools, said: "A few years ago, who would ever have dreamed we could be watching baby birds hatching in the nest - is this what they mean by a chick flick! But this is great news for our pupils who will get the chance to see nature close-up, thanks to technology, and who may develop an interesting in birdwatching as a result."
Lancaster University Network Services design, manage and maintain the CLEO network including all elements of the network infrastructure and service.
To view the images go to www.cleo.net.uk/ and select news and events.