Princess opens new social space
12/20/2004 13:05:03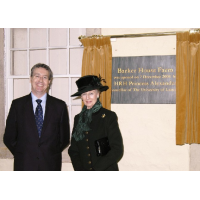 HRH Princess Alexandra officially opened Barker House Farm at the University as one of her last duties as Chancellor.
Barker House Farm, which dates back to 1691, was officially opened on Tuesday, December 7, at 3pm. It has been converted to new student social space, including bar, restaurant and offices, at the centre of Alexandra Park - the new student village, South West of the main campus.
The Chancellor was received by the Pro-Chancellor ( Bryan Gray) and the Vice Chancellor, Professor Paul Wellings and Mrs Annette Wellings.
She was shown around the complex by Mark Swindlehurst, Director of Estate Management at Lancaster University.
Meanwhile, economist Professor Jagdish Bhagwati and Physicist Professor David Morris Lee were made honorary graduates at ceremonies in the Great Hall on Wednesday, December 8, 2004.
In four higher degree ceremonies held on the same day, more than 1,500 post-graduate students from across the world graduated. Chancellor Princess Alexandra awarded the degrees in her final degree ceremony before she steps down at the end of December after 40 years as Chancellor. Her Royal Highness was installed as Chancellor at a ceremony in Lancaster Town Hall in November 1964, followed by a procession through the city.
Sir Christian Bonington will be installed as new Chancellor in March.