Student film makers on show at the Dukes Theatre
05/13/2011 00:00:00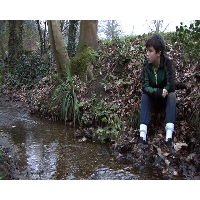 Three films shot in Lancaster will be screened at the Dukes Theatre as part of a student film festival. Members of Lancaster University Film Society are to showcase their work to the public at the event called "LUShorts" on June 2nd at 8.30pm.
The Society's President James Harvey said:"The idea is to allow any student to realise their creative vision, with nil constraint, so as to produce these raw, individual, and independent works."
West Street in Lancaster was the location for the film Tea by film student Cameron King, who lives in Ulverston in Cumbria.
He said: "Jack lives for tea. He simply can't drink enough of it! One fateful night, however, Jack's world will be turned upside down and the very drink he loves seems to be the culprit, with murderous consequences". "
Other films on offer include film student Emma Ashley's The Elated Kaleidoscope Girl, shot at the MusicRooms in Sun Square in Lancaster, Effectus byLiterature student Amy Charles, and international student Amal-Abou Setta's political satire You're Free.
The fifth film Young Man is by the Film Society's founder James Harvey.
He said: "It's a semi-autobiographical piece, which focuses on identity. It is informed by documentary technique in its use of improvisation and non-professional actors. Members of my own family played roles similar to themselves, and the film was shot entirely around my hometown of Colchester."
http://www.dukes-lancaster.org/film/lu-shorts