English landscapes
07/24/2006 12:02:06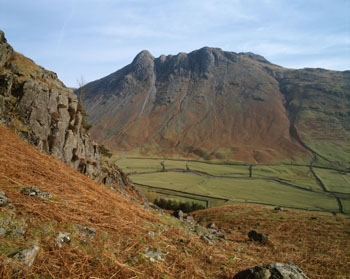 Langdale in the Lake District
The influence of people on the landscape of the north-west is explored in a book by academics from Lancaster University.
Dr Angus Winchester and Dr Alan Crosby co-authored the north-west volume of England's Landscape, a series of eight books covering the whole of the country.

Dr Winchester said: "The north-west conjures up a series of widely contrasting images – the dark mills of industrial Lancashire or the majestic mountain scenery of the Lake District, the glitter of Blackpool or sheep and cattle quietly grazing around old stone farmhouses, the architectural splendour of Liverpool's cathedrals or the bleak, evocative ruins of Border castles.
"This book explores the rich diversity of landscapes in this long, narrow stretch of England from the Mersey to the Scottish border, hemmed in by the sea to the west and the Pennine moors to the east.
"Covering both countryside and townscapes, it explores how economic exploitation has shaped the land across the millennia and how the landscape of the north-west has inspired writers and artists for more than two hundred years."
The book contains 250 colour photographs, including some superb aerial shots specially taken for the book.
Dr Winchester said: "Buildings are often saying something – for example, Rochdale town hall or Lancaster town hall are statements of civic pride.
"Landed estates are about economic power – for example, Stonyhurst College in the Ribble Valley is so imposing so that by the time you knock on the door, you feel very small.
"And the industrialists who built model villages for their workers like Port Sunlight on Merseyside were expressing their utopian ideals."
He said modern day influences on our landscape are also examined.
"The Trafford shopping centre in Manchester looks like a palace with its atriums and arches and it shows how seriously we take consumerism.
"We also look at the rebuilding of Manchester after the IRA bombing and about how urban regeneration has changed the city."
The series of eight books is published by English Heritage and Harper Collins.
Sir Neil Cossons, Chairman of English Heritage, said: "These books set out to reveal the values that underwrite our sense of place and offer a new insight into how the landscape of England evolved."