Nokia Praises Lancaster Developers For Creativity
07/12/2007 15:12:17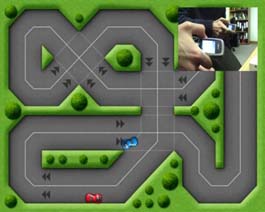 TiltRacer
An international competition to devise innovative applications for mobile phones has been won by a team from Lancaster University.
PhD student Will Bamford and Tamas Vajk, who is on a four month scholarship at the University from Hungary, represented the UK at the Nokia 2007 Mobile Innovation Competition in Budapest.
They had already won the UK round of the competition before competing against other finalists from Denmark, Finland and Hungary who together had beaten some 80 teams of more than 200 students from across Europe.
In Budapest, the finalists had the opportunity to show their ideas and work at an international level.
The UK team won with the TiltRacer application, which uses a motion controller for a car racing game which they created to be played on a mobile phone.
The Nokia jury stressed issues such as innovativeness both in terms of technology and ease of use as well as the market potential.
A Nokia spokesman said: "TiltRacer got the first prize for its innovativeness to expand the interaction from the mobile to the physical world. The fact that students did TiltRacer opens new possibilities for the industry and shows that innovation is fun and doable. The game concept is simple, but it demonstrates that casual games can be played this way in public spaces."
The students' supervisor, Dr Paul Coulton of the Department of Communication Systems at InfoLab21, said: "It's great to see the innovation in mobile applications being done at Lancaster recognized by a company such as Nokia and that our students' work is being exposed to an international audience."
The prize was Nokia's latest phone which includes GPS.
Will Bamford said: "We're really pleased and very surprised that we won. They were looking for something innovative with the potential for commercialisation so they liked TiltRacer.
"It includes a motion controller which means you can move it around in space so it's straightforward to use and more intuitive than having to use the controls on the phone."
He and Tamas Vajk also created a small car racing game to play on a large public display controlled with the motion-detecting Nokia 5500 phone. The two students also programmed a socket connection to the phone's Symbian operating system and to the motion sensor which has been used in a variety of other projects. The game has been developed so it could later be played on an Xbox system.
Harri Pennanen, Head of Academia Relations at Forum Nokia, said: "We are looking forward to seeing the team's new developments, and we are sure that we will hear about them soon."
The Lancaster team are presenting a paper based on the project at the Third International Conference on Games Research and Development (CyberGames 2007) in Manchester from September 10th to 11th.
Vajk, T., Bamford, W., Coulton, P., and Edwards, R., "Using a Mobile Phone as a 'Wii like' Controller".
http://www.mobileradicals.com/index.php/Publications_since_2000