Spectacular at the Nuffield Theatre
10/10/2008 11:30:10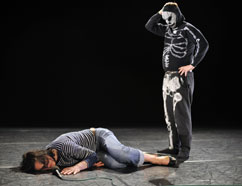 Spectacular
The Nuffield Theatre at Lancaster University is delighted to welcome the extraordinary show Spectacular.
Returning to the Nuffield, following the huge success of Bloody Mess in 2004 and The World in Pictures in 2006, Forced Entertainment present a new work that combines theatre, high melodrama and shambolic stand-up comedy.
Intimate and comical, Spectacular seductively winds the audience into the world of a missing performance. The skeleton host seems relaxed about it, cracking jokes and staying chatty and amiable. But something's wrong. The fact that the next performer on stage is caught up in some long melodramatic death scene may have something to do with it…
Playful and provocative by turns, Spectacular explores death and playing dead, to humorous and unsettling effect.
"The best group of stage actors in Britain." – The Times
"One of the greatest British theatrical exports of the past 20 years" – The Guardian
Spectacular by Forced Entertainment
8pm Tuesday 21st & Wednesday 22nd October with a post-show discussion on 21st
£10 / £7 concessions
boxoffice@nuffieldtheatre.com
Tel: 01524 594151