Flying hazards - how birds can harm our health
11/09/2005 16:27:12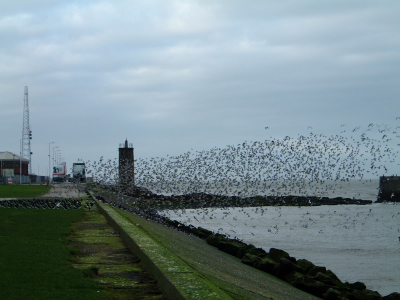 A flock of oystercatchers and knots at Morecambe.
Bird flu isn't the only human health hazard carried on the wing, according to an article by Dr Keith Jones of Lancaster University.
In an article, published in the November 2005 issue of Microbiology Today, the quarterly magazine of the Society for General Microbiology, Dr Jones spells out some of the many dangers to human health carried by wild birds.
Birds are reservoirs for all manner of infectious disease from Lyme disease to E-coli and we can do little about it.
Dr Jones said: "Wild birds carry several important human and animal diseases. The most notorious of these is bird flu, but the list also includes other influenza viruses, West Nile Virus, psittacosis (or parrot fever) and Lyme disease. We have also discovered that gulls can carry E. coli O157."
Not only do these animals carry many harmful microbes, but because of migration patterns they are also responsible for the worldwide spread of the diseases.
He said: "If we can prevent wild birds from mixing with poultry it should make a difference. Stopping the spread of diseases such as avian flu to farmed birds would avoid huge economic losses, and at worst, loss of human lives.
"Greater bio-security on farms could also prevent the spread of food poisoning bacteria amongst livestock and the direct contamination of salads with pathogens in bird droppings."
Dr Jones also believes that cleaning up contaminated outdoor eating areas and not feeding wild birds will help to prevent cases of food poisoning.
He said: "These studies show that it is not just because of bird flu that we should be wary of contact with wild birds and their faeces."