university celebrates cycling
02/29/2008 16:57:23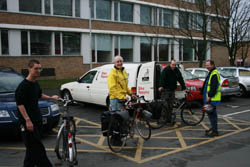 "Doctor Bike" bicycle checks and adjustments
Staff applauded for cycle to work day
Pedal power has earned staff at Lancaster University a series of prizes.
More than 90 members of staff cycled to work on the University's Cycle to work day on March 11 earning themselves a free breakfast and around £400 of prizes.
The department with the highest percentage of staff cycling to work that day were Geography (30 per cent) meanwhile staff in Environmental Science clocked up the highest collective mileage (115 miles).
The individual prize for the best idea to promote cycling to campus went to Manus Hayne, Physics, who won an £80 bike shop voucher for Leisure Lakes. He proposed a one stop shop for cycling on campus offering bike hire, maintenance and repairs – an idea that is now being investigated further by the University.
Two cyclists in Human Resources were also awarded prizes for notching up the highest average cycle miles per person (11 miles).
Each of the participating cyclists from the winning departments and the individual prize winner will be awarded book tokens for Waterstone's.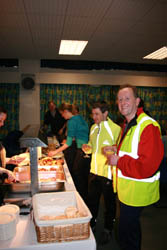 Free breakfast for staff who pledged to cycle to work available in the Conference Centre and included bacon & sausage buns, croissants, Danish pastries, tea, coffee and orange juice!
Travel and Environment Co-ordinator Philip Longton said: "This is a celebration of cycling to and from the University as a commute-to-work. We wanted to make this fun and interesting with these events to create even more enthusiasm and interest.
The numbers of staff cycling to work at the University is one of the highest in Lancashire at just over 13 per cent, while the numbers of students cycling to campus has doubled to over ten per cent in the past two years.
The events consisted of; a mass cycle ride to Campus. The first led cycle ride departed from the car park of Chancellors' Wharf and followed the new University cycle route along the canal towpath. The second led cycle ride departed from the A6 on the edge of Greaves Park, just south of the Pointer Roundabout;

Free "Doctor Bike" bicycle checks and adjustments were offered by mechanic Colin Stone;


The police were also on campus to postcode-stamp bicycles for extra security.



Cycling events and promotions were held in Alexandra Square and a selection of cycling information stalls were available as part of the University's Cycle Day. The highlight was a pedal-powered fruit smoothie maker.






All the events were provided as a partnership between Green Lancaster and the Cycling Demonstration Town project for Lancaster & Morecambe.