Lancaster Graduate's Olympic Dream
04/30/2008 15:52:12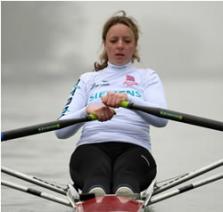 Frances Nicholls in training
A Lancaster graduate is pursuing her dream of becoming an Olympic rower after being handpicked for a national training programme aimed at developing elite athletes for the London games.
Frances Nicholls was chosen from around 5,000 applicants to the Sporting Giants programme run by UK Sport and the English Institute of Sport.
Former Olympic rower Sir Steve Redgrave launched the first appeal of its kind to find potential athletes for the next Olympics in 2012.
Applicants had to be at least 6'3" or 190cm for men and 5'11" or 180cm for women, aged between 16 and 25 and with some sort of athletic background.
Frances Nicholls, 23, was one of only 20 women selected and has left her teaching job to move to Henley-on-Thames where she is now in training.
She said: "This is an amazing opportunity and the thought of being in the Olympic squad is just overwhelming. It's a big commitment and I train from 730am to 1pm doing not just rowing but a 60 mile bike ride and weight training."
Success at two phases of Sporting Giants testing has seen Fran fast-tracked onto GB Rowing's World Class Start programme, sponsored by Siemens, at Marlow Rowing Club alongside GB Olympic and World champions.
World Class Start programme manager Steve Gunn said: "The testing that Fran and other Sporting Giants athletes have been through shows they have the results to give them the basic parameters to become Olympic medallists.
"There are many different facets to being an Olympic medallist and Fran now has the opportunity to discover a journey that has a thousand steps in it and her task is to maximise her chances with dedicated coaches."
Frances, who graduated from Lancaster in 2006 with a degree in Educational Research, became interested in rowing while at University.
"I was working in a shop on campus part-time and the rowing cox also worked there. She said I was so tall I'd make a good rower and I was hooked. There's nothing like getting up early and going on the river Lune which is a gorgeous stretch of water. I get a huge buzz from competing in a racing regatta."
The trial for the GB squad for the Olympics includes 2,000 metres on a rowing machine and 5km on the river.
"It's hard work but every day that I train I can see the difference in terms of fitness and I love it. It's incredible to be an athlete hoping to compete in the Olympics."