THE Lifetime Achievement Award for Cary Cooper
12/01/2010 00:00:00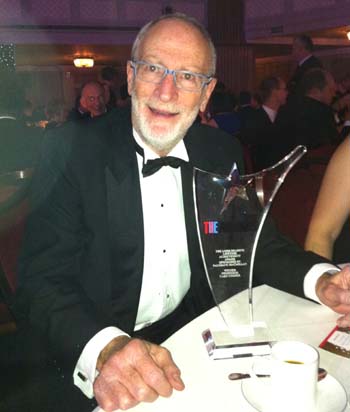 Professor Cooper with his award for Lifetime Achievement
Professor Cary Cooper CBE has won the Lord Dearing Lifetime Achievement Award at the Times Higher Education awards ceremony in London.
Professor Cooper, who is Distinguished Professor of Organisational Psychology and Health at LUMS, was commended for the range and depth of his achievement. He has produced nearly 400 papers and is the author or editor of over 100 books on everything from leadership and motivation to stress, employee health and wellbeing. His views are sought by governments around the world as well as United Nations agencies.
In 2005, Sir Andrew Turnbull, at that time the Cabinet Secretary, appointed him chair of the National School of Government's Sunningdale Institute.
In the judges' words: "Cary Cooper has made an enormous contribution in many areas. A world-class organisational psychologist, his contributions to research on well-being have been both sustained and path-breaking. He was central to the development of management science in this country and more recently has been leading the Academy of Social Sciences in advocating powerfully for the subject.
"His energy and enthusiasm over the past four decades are legendary and he fully deserves this Lifetime Achievement Award."
He is a Fellow of the British Psychological Society, The Royal Society of Arts, The Royal Society of Medicine, The Royal Society of Public Health, and an Honorary Fellow of the Royal College of Physicians. He is also the President of the British Association for Counselling and Psychotherapy, Chair of the Academy of Social Sciences, President of RELATE and Editor-in-Chief of the Blackwell Encyclopaedia of Management.
Professor Cooper was also recently awarded the Honorary Fellowship of the British Psychological Society (only two given this year) and the Lifetime Achievement Award of the Division of Occupational Psychology of the BPS.