Revamped careers service re-opens
02/28/2007 16:04:32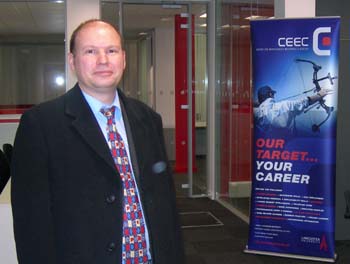 Director of CEEC Paul Blackmore at the new office on Alexandra Square
The Centre for Employability Enterprise and Careers (CEEC) has re-opened in a move designed to improve its visibility on campus.
All 18 staff have moved from their current office above the Security Lodge into a glass-fronted office opening onto Alexandra Square.
The Director of CEEC Paul Blackmore said the move will enable his staff to offer a better service.
"Our key mission is to enable students to make informed career decisions, become more employable and to help them succeed in reaching their goals. The more visible we are to students the more we can help them. Our open plan office and Learner Resource Centre is designed with this in mind and provides us with an effective 'shop window' allowing the CEEC logo, digital display screens and attractive study spaces to be seen right across the square. An additional benefit of the location and design of the space is that we are able to showcase CEEC to high profile visitors and employers as well as attract more students to use our services.
"Inside we will have two new dedicated interview rooms for careers guidance and employer interviews, while staff will be located within their functional areas as opposed to our old premises where we were dispersed across several office spaces. Hopefully this will provide a much more effective way of working and communicating between the staff."
He stressed that it is never too early for students to think about careers, with some blue-chip firms recruiting before the final year of a degree course.

"The graduate recruitment market is becoming increasingly competitive. Students can no longer just rely on a good degree. They also need evidence of transferable skills and need to develop their career management skills to successfully navigate today's recruitment and selection procedures. They will also need to develop commercial awareness as recruiters can afford to be choosier than ever so the more students know about the world of business, so much the better."
He said this demand is reflected in the increase in the range of services offered by CEEC.
"No longer do we simply offer one-to-one careers guidance but we also deliver a wide range of workshops to meet these needs both within and external to the curriculum. CEEC also offers a Certificate in Enterprise and Commercial Awareness and Career Development Learning Programmes are also delivered in many academic departments.
"Our role has never been more important to our students as employers expect graduates to be able to demonstrate that they possess increasingly wider ranges of competencies and business skills, and that's where we can help."