Opening of Trim Trail and Woodland Walk
01/20/2011 00:00:00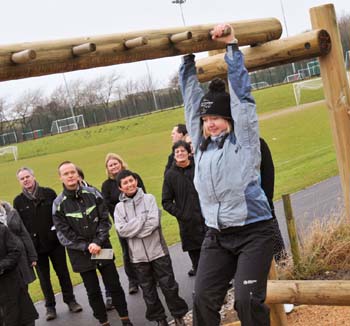 Laura Daglish demonstrates the ladder walk
Around a hundred staff have attended the opening of the Woodland Walk and Trim Trail designed to encourage fitness at work.

The Woodland Walk provides a route through 2.6 miles of woodland on campus, taking around one and a half hours to complete in full though there are signed points to leave or join the route.
The Trim Trail includes 11 exercise stations, from a vault to balance beam, pole climb, ladder walk and hurdles, designed for varying levels of ability. Professor Amanda Chetwynd addressed the assembled crowd in Alexandra Park which then split into two groups to tour either the Woodland Walk or Trim Trail.
"This is the start of the Healthy Campus initiative for both staff and students. We want to encourage more of us to leave our desks or library at lunchtime to enjoy this beautiful campus."
The use of the Trim Trail was demonstrated by fitness instructors from the sports centre, led by personal trainer Laura Daglish.
She said: "The trail gets you moving and you use different parts of your body so you don't need a rest. There are different exercises you can do on each piece of equipment depending on your level of ability. The challenge on the ladder walk, for example, is to see how far you can get and with the step ups you can do alternate legs or just use the one leg which is harder."
Both the Trim Trail and Woodland Walk were developed by Facilities' Landscape Manager Ian Sturzaker in consultation with the Director of Sport Kim Montgomery.
He said: "I'm hoping as many people as possible will use it because it's a good way of seeing some of the 360 acres of campus. The Woodland Walk was already there but we've tried to enhance it to improve access and add signposts. The Trim Trail is basically an indoor sports activity taken outside and I think it will become part of the training regime for sports societies."
Kim Montgomery said she was pleased with the turnout at the opening event.
"This is a great way of getting fit in the fresh air and you don't have to do the whole thing so staff can jump in and out whenever they want."