Man-made chemicals found in MEPs' blood
03/31/2004 16:44:18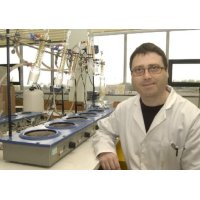 Blood taken from MEPs across Europe has tested positive for a range of chemicals from flame-retardants to stain removers.
Lancaster University scientists analysed a number of blood samples taken from 47 volunteers - including a number of MEPs - from 17 European countries in December 2003. One particular flame retardant was found at the highest recorded level yet discovered in human blood.
The samples were tested for a range of five man-made chemical classes used in industry, agriculture and in the manufacturing of everyday objects such as food wrappings, cosmetics and children's toys. These included:
· Pesticides
· PCBs
· Flame retardants
· Plasticisers (phthalates )
· Stain and water repellents (perfluoroalkyl chemicals)
Every volunteer tested positive for each of the five groups of chemicals under analysis, including PCBs, which were banned in the 1970s following heath and environmental concerns.
While every volunteer tested positive for at least one type of flame retardant one particular type, know as HBCD, was found in human blood for the first time. Another type of flame retardant, TBBP-A, was found in 27 of the volunteers - in one case at ten times the level found in previous studies in Europe. Meanwhile the Brominated flame retardant Deca-BDE was found in 30 percent of the volunteers in levels ranging up to almost ten times higher than the highest concentration yet found in human blood.
Some of the chemicals found in the blood samples have been linked with an increased risk of cancer while others are believed to disrupt the endocrine system, which maintains hormonal balance in the body.
Blood samples were taken from 47 volunteers (MEPs, former MEPs, observers and WWF staff members), from 17 European countries, in Brussels in December 2003.
Believed to be the most comprehensive blood survey of its kind in Europe, the study was commissioned by the WWF and involved expert blood analysis from specialist scientists at Lancaster University, the Netherlands Institute for Fisheries Research, the Institute for Chromatography in Belgium and the Institute of Applied Environmental Research in Stockholm.
The study came on the back of a previous UK blood sample study carried out by WWF and Lancaster University in 2003.
Gareth Thomas, of Lancaster University's Environmental Science Department, collated the data from the four laboratories and prepared the scientific report from which WWF has prepared its report, published this month.
Dr Thomas, who is based at the university's Lancaster Environment Centre, said: "We expected to find many of the chemicals we looked for, but it is particularly surprising that TBBP-A and DecaBDE were found in some individuals at concentrations so much higher than has been seen before. It is important that we now investigate in detail how people are exposed to these chemicals, in order to understand why some people have much higher concentrations than others."