Distinguished ABS award for Professor Sue Cox
11/04/2008 13:52:34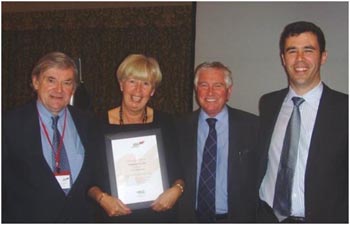 Professor Sue Cox receiving her
Companionship award from the Association
of Business Schools.
Pictured with Sue, from left to right, are:
Professor Howard Thomas, Chair of ABS and
Dean of Warwick Business School; Jonathan
Slack, CEO of ABS; and Professor Huw Morris,
Vice-Chair of ABS and Dean of Manchester
Metroplitan University.
Professor Sue Cox, Dean of Lancaster University Management School, has been made an ABS Companion by ABS – the Association of Business Schools.
ABS awards Companionship to individuals who have made a significant contribution to the leadership of UK Business Schools; successful promotion of business and management education, development and research at national and international levels; policy development at regional, national and international levels which has made a positive difference to the UK Business School sector; and outstanding and innovative achievements which have demonstrated distinction and high quality.
Sue Cox is Dean of LUMS and Professor of Safety and Risk Management. After graduating in chemistry and psychology, she worked in the chemical/pharmaceutical industry as a development manager in veterinary products before completing her higher degree in applied psychology whilst working in the Department of Psychology at Nottingham University.
In 1998 Sue was appointed Director of Loughborough Business School. She moved from the Directorship of Loughborough Business School to Lancaster University Management School in to take up her current position as Dean in 2001. She has become involved in a number of economic improvement projects within the region and is a member of the North West Advisory Board for Business in the Community.
Sue chaired the Association of Business Schools from 2002 to 2004. She was a member of the ESRC's Strategic Research Board and serves as a member of the Executive Steering Committee of AIM. She is currently a member of the International Awarding Body of EQUIS and is on the Board of EFMD.
Sue is also a Fellow of the British Academy of Management and a companion of the Chartered Institute of Management. Sue has served on a number of Advisory Boards in relation to the nuclear sector and has an international reputation for her research in high-reliability organisations. More recently, Sue's research has focused on organisational learning and the management of change in relation to safety within the nuclear sector, where she continues to have an advisory role.