Aerial Theatre at the Nuffield
05/02/2008 10:52:25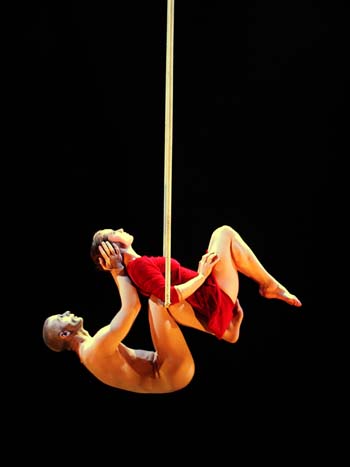 Ockham's Razor
Daredevil aerial artistes are to perform at Lancaster University's Nuffield Theatre in the climax to the Spring Season on May 13.
Ockham's Razor are one of Britain's leading exponents of aerial performance, and the Nuffield Theatre is delighted to play host to their unique combination of circus, dance and visual theatre.
Their latest triple bill of work: ARC; Memento Mori & Every Action finds the performers hanging from metal structures in the air and swinging on ropes suspended from the beams up in the roof of the theatre.
Ockham's Razor defy gravity with their beautiful and acrobatic moves, but no matter how complicated their choreography may seem, they always hold true to their philosophy that the simpler option is usually the right option. This means that their work remains breathtaking to behold but simple to understand, as they weave stories of trust and vulnerability amongst the ropes.
"Physically thrilling" Sunday Times
"Daring aerial theatre" The Independent
Dave Burton from the Nuffield said: "Ockham's Razor are the final performers in the Nuffield Theatre's Spring Season, and bring the curtain down on our project to invite local people to programme the work that we put on. We believe it is a wonderful example of the quality of work they have chosen, and will offer up a thrilling end to another successful season."
8pm Tuesday 13 May £8/£6