Confucius Institute helping North West Business Grow in China
03/28/2012 00:00:00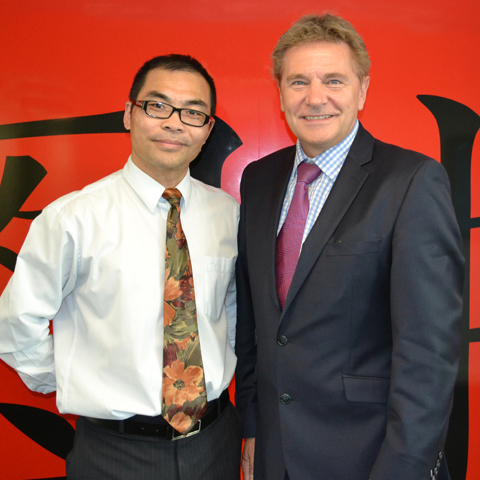 China offers tremendous export possibilities to businesses in the North West, and Lancaster University is well placed to help companies understand the country better, according to the Regional Director for UK Trade & Investment North West.
Clive Drinkwater, Director for UKTI North West, was visiting Lancaster University's Confucius Institute - a major new hub for Chinese language and culture - to learn about the Institute's work and talk about business engagement.
The Institute, launched in December 2011, complements extensive China research and teaching activities across the University and was awarded jointly to Lancaster and its partner the prestigious South China University of Technology (SCUT) in Guangzhou by the Office of Chinese Language Council International (known as Hanban).
Language teaching to University staff, students and even primary school children is already in the pipeline and the institute is also committed to developing programmes which are adapted to support innovation, management and sustainable development in the North West.
The institute is now interested in hearing from regional businesses with an interest in China to discuss potential collaboration.
Speaking at the meeting with representatives from China-related and potentially China-related  research groups across the University faculties, Mr Drinkwater said of the 250,000 businesses in the North West, from Crewe to Carlisle, only around 7,000 met the official criteria to be counted as an export company.
"Those numbers are expanding and I want to see more of our region's firms taking advantage of opportunities in fast growing economies such as China, India and Brazil. I see Lancaster University as one of the key ways in which we can enable more businesses to do that. I know how many SMEs would benefit in so many ways from working with their universities. Lancaster has been reaching out to business for a long time and I want to encourage businesses to take that leap, to engage with universities and find out what they can do for them."
Dr Qihai Huang, Director of Lancaster Universty's Confucius Institute, said: "Together with other departments in the University, we are very keen to work with UKTI and our local business community on the enterprise agenda.  During our meeting we had very fruitful discussions about how we could collaborate more closely to facilitate local businesses to engage with China and explore and develop business opportunities in the huge and fast growing Chinese market.
"The meeting will be followed by a workshop series on 'Doing Business in China' jointly held by the Confucius Institute and the Institute for Entrepreneurship and Enterprise Development (IEED) at Lancaster University Management School.  We hope to run the first workshop in June this year.
"We strongly encourage businesses which have operations in China to participate and share their experience with us. We also hope those businesses which are interested in doing business in China join us and discuss how we can help. The Confucius Institute can help draw on other resources such as our excellent network of students and partners in China."