New research centre planned with Chinese Academy of Sciences
03/16/2012 00:00:00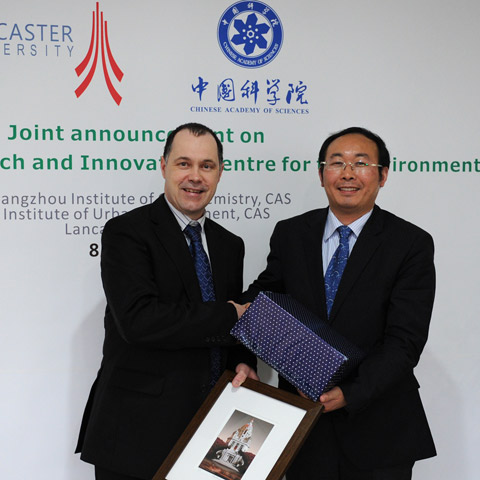 Lancaster University's partnership with the prestigious Chinese Academy of Sciences (CAS) has been strengthened with plans to develop an International Research and Innovation Centre for the Environment. A letter of intent was signed during Professor Mark E. Smith's first visit to China as Vice-Chancellor in March.

The Centre will focus on innovations in the areas of the environmental sciences, environment and health and environmental technologies.  It will also work to promote joint research and to engage with businesses and industrial partners to develop world class research on environmental issues of global concern.

Professor Mark E.Smith said:  "This is a very important development in Lancaster's collaboration with CAS. Our partnership is already seeing benefits to science both in the UK and China."

Lancaster and CAS already work on crucial global issues from food security to pollution and this latest development follows a memorandum of understanding, signed in 2010, which pledged to bring Lancaster University's work in environmental science into closer partnership with parallel work taking place in China.

CAS has over 100 institutes as well as a university and graduate school and Lancaster enjoys a special partnership with CAS in Environmental Science and Technology.

The partnership was designed to create opportunities for collaboration between Lancaster and China including postgraduate and staff training, summer schools, exchange programmes, business and enterprise, and joint research tackling global issues ranging from sustainable agriculture and land use to energy, waste and pollution.

A new two-year International Masters Programme in Environmental Science and Technology has been set up enabling students to split their study time between Lancaster University and CAS.

The collaboration has also attracted interest from Unilever who are sponsoring three PhDs  to Chinese students registered at Lancaster studying environmental science.

CAS and Lancaster have set up a regular programme of joint research workshops both in China and the UK addressing issues such as chemicals management, water treatment and environmental health.

The CAS Institute for Geochemistry in Guangzhou, Guangdong province, and the CAS Institute for the Urban Environment in Xiamen, Fujian province, have been chosen as initial institutes for collaboration with Lancaster, since they already take the lead role for CAS in Lancaster's UK-China Bridge Project.

The China Bridge project is funded by Research Councils UK to improve UK innovation links with China to help tackle environmental issues such as global food security and water quality. Professor Bill Davies of the Lancaster Environment Centre is leading the three year research programme which will tackle some of these problems.

It is intended to formally agree the creation of the International Research and Innovation Centre for the Environment by 1 August 2012.