Chancellor visits GD Goenka World Institute to celebrate graduates' success
06/06/2011 00:00:00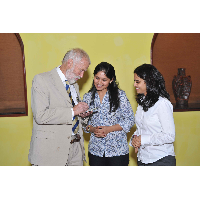 Lancaster University's Chancellor, the renowned mountaineer Sir Christian Bonington CBE, visited GD Goenka World Institute of Higher Education for the first time on Friday 3rd June. 

His visit marked the expansion of the partnership between Lancaster University and GD Goenka World Institute of Higher Education (GDGWI) to include three engineering degrees.

The new MEng degrees being offered in autumn 2011 will be in Mechanical Engineering, Electronic and Electrical Engineering and Computer Systems Engineering. Mechanical Engineering at Lancaster University is rated 5th in the UK Guardian league tables.


The first ever cohort of students to graduate with a Lancaster University degree in India were presented to Sir Chris at a public lecture and graduation dinner in Delhi that evening, where he gave a public lecture to key industry figures and Lancaster graduates in India.

Lancaster is the first and only university to deliver higher educational qualifications at the GD Education City in India, a 60 acre site located near Delhi. The Education City is part of GDGWI which has been established to cater to the rising demand for quality higher education in India, to provide avenues for higher education to its students in an environment that is conducive to learning and teaching, and to produce the business leaders of the future. Lancaster is committed to bringing high quality higher education to India with its international partnership with Goenka.

The partnership, established in 2009, brings together Goenka's experience of education in India with Lancaster's world class academic reputation and is ideally positioned to equip students to meet the challenges of a globalised world.


Lancaster University's world-class Management School (LUMS) currently delivers undergraduate and postgraduate programmes at GD Goenka, including undergraduate economics and business economics, BBA business studies and a postgraduate diploma in business management. The MSc programmes are taught mainly by staff from Lancaster University, while the undergraduate and other courses are taught by staff from GD Goenka. 

The programmes are validated by Lancaster and students receive a Lancaster University degree.


Professor Steve Bradley, Pro-Vice-Chancellor, International at Lancaster University said: "Launching three new undergraduate programmes in collaboration with GD Goenka World Institute of Higher Education is an exciting prospect that will simultaneously widen the portfolio of programmes on offer and deepen our partnership.

"Lancaster brings a different learning style, the benefits of an established research reputation and the benefits of industrial partnerships which inform teaching and learning and add to the overall student experience."

These degree courses are based on the Lancaster University curriculum but will be taught by GD Goenka staff. The final degree will be awarded by Lancaster University and there will also be an option for undergraduates to study at Lancaster as part of their course.

Industrial placements will be arranged in the fourth year of study at GD Goenka, which places great emphasis on employability. Its Corporate Resource Centre networks with companies and organises personal development programmes, workshops and campus interviews for students in association with some of the leading HR professionals in India.

Lancaster University also provides extensive staff training to GD Goenka staff, and works closely with them to provide the curriculum and adapt it to the needs of students at GD Goenka. In addition, there are opportunities for students to visit Lancaster University through Summer School programmes and exchanges. Some students transfer to Lancaster to study the remaining part of their degrees.

Dr. Vijay Gupta , Director of GDGWI said: "G D Goenka World Institute has, in partnership with Lancaster University, fulfilled a long-felt need in India for academic programmes that are world class in content and delivery, and prepare students for global careers.  Our students benefit from the reputation and industrial partnerships of the top-rated Lancaster University."