Olympic gold medallist welcomes opening of new £20m sports centre
11/17/2011 00:00:00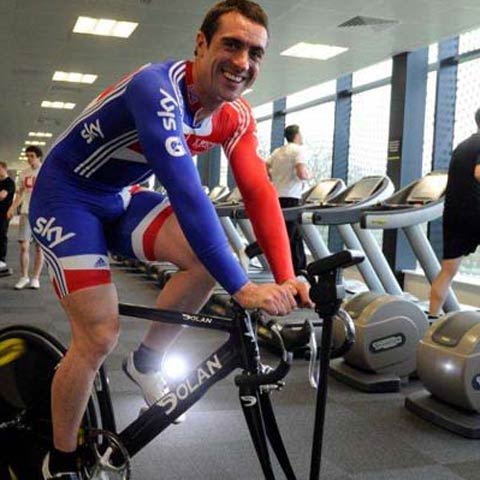 ​Olympic gold medallist Jason Queally has welcomed the opening of Lancaster University's new £20m sports centre by the Chancellor Sir Christian Bonington.

A graduate of Lancaster University, he  won gold and silver medals at the Sydney Olympics in 2000 and is in training for the London Olympics in 2012.

He said a childhood visit to the previous university sports centre had ultimately led to his sporting career, university degree as well as lifelong friends and he was sure the new centre would do the same for the next generation.

"This fantastic new sports centre will enable more people to experience the direct benefits that sport can bring and it will no doubt bring people together and change their lives in ways we can only imagine."

After the unveiling of the official plaque, Jason demonstrated his cycling in the 100 station gym while the Chancellor Sir Christian Bonington demonstrated how to scale the 10m high climbing wall. As an eminent mountaineer, he helped design the wall and he regularly goes climbing in the Lake District with students.
"There's a real thrill as you drive up to the University and see this magnificent building. It's welcoming and exciting and I'm proud to have been involved in some of the design. It's important to be introduced to sport and to have a fitness routine in a congenial atmosphere which is what this sports centre offers.

"It is a superb asset to the university and is of immense value to the entire local community which is incredibly important."

Around 13,000 people a week use the new sports centre, half from the local community, including a thousand children a week who have swimming lessons.

Also among the guests were footballing legend Jimmy Armfield and David Sparks, Chief Executive of the Amateur Swimming Association.

The opening also included a swimming gala in the 25 metre 8 lane pool with several local primary schools.  It was won by Cawthorne Endowed School in Abbeystead who were awarded the Joe Medhurst trophy by the Chancellor.

Teacher Fiona Ip said: "I think this is testament to the fact that all of our children have been swimming here at the University every week for years and this shows that it's paid off."

Other features of the new centre include:

• 8 badminton court sports hall with electronic scoring displays
• 4 glass backed squash courts
• A mirrored space/dance studio
• A health and fitness site including a sauna and steam room
 http://sportscentrelancaster.co.uk/