Chancellor bears the Olympic torch to Mount Snowdon
05/31/2012 00:00:00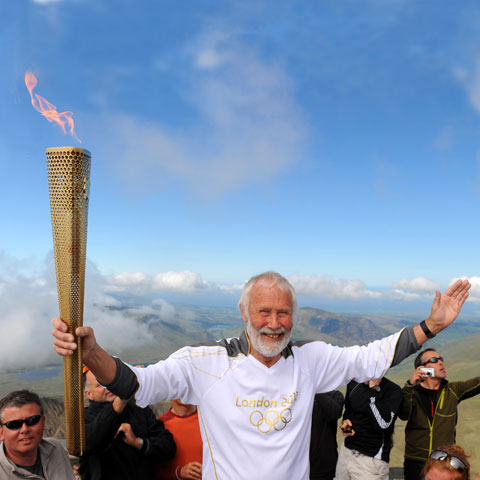 ​Lancaster University Chancellor Sir Chris Bonington has carried the Olympic torch to the top of Snowdon in North Wales.

He was one of eight thousand people chosen to carry the torch as it journeys across the UK ahead of the start of the London 2012 Games.

The flame travelled in a lantern on the Snowdon Mountain Railway before Sir Chris took the torch to the top on day eleven of the relay. He was watched by a crowd who gathered at the summit which is 1085m (3,560 feet) above sea level.

He said: "The experience exceeded all my expectations.  There were so many people waiting on the top of Snowdon and they were so warmly welcoming and friendly as I climbed the last few feet up onto the summit and clambered up onto the top of the trig point."

Sir Chris, who was knighted for his services to mountaineering, began his climbing career on Snowdon 61 years ago.

"When I was interviewed I found myself overcome by emotion as I described how much it meant to me, I was going right back to my roots when I started climbing as a 16 year old school boy all those years before – the first climbs in the Llanberis Pass, the New Years Eve and night I spent in 1952 on the summit, the early climbs on Clogwyn dur Arddu, the friends I'd made, the adventures I had had."
Lancaster University student Sue Fearnley was nominated to carry the torch on the Preston leg due to her work at a homeless shelter in Lancaster for five nights a week.

Sue, who is in the final year of a social work degree, said: "I was really shocked and amazed to be chosen. I  am nervous, but I'm really looking forward to it as well. I hope people come out to watch. I'm looking forward to the whole of the Olympics."

The flame will end its journey as the last torchbearer lights the cauldron at the Olympic Games Opening Ceremony in the Olympic Stadium, marking the official start of the Games.